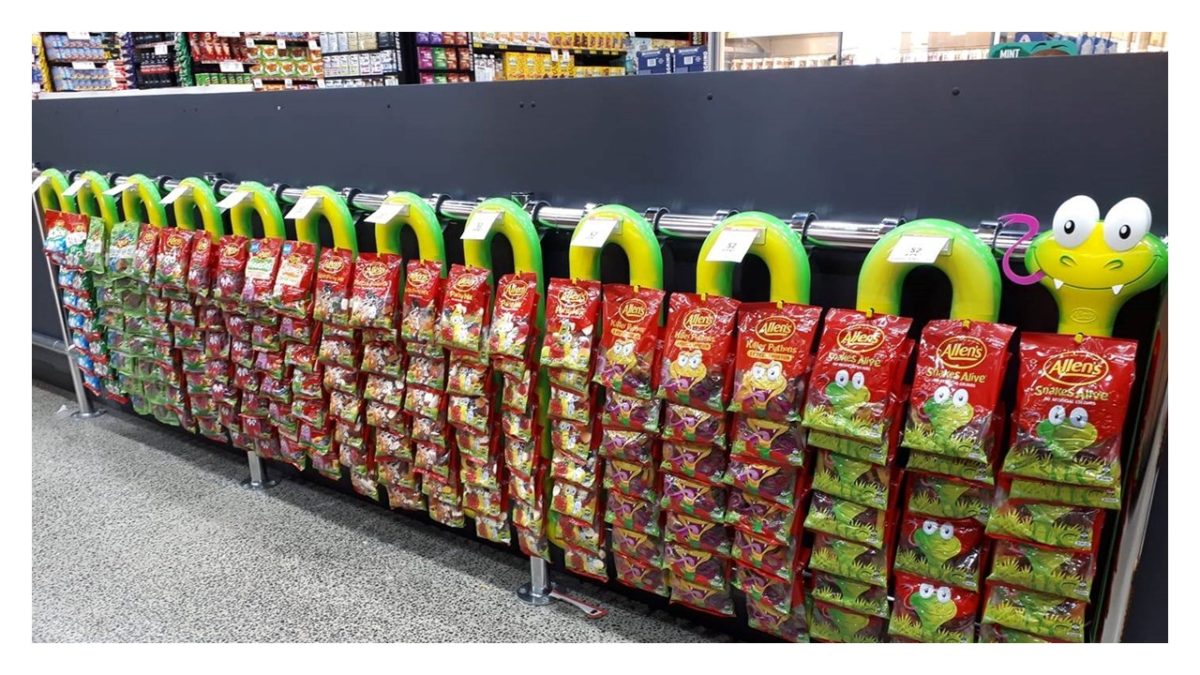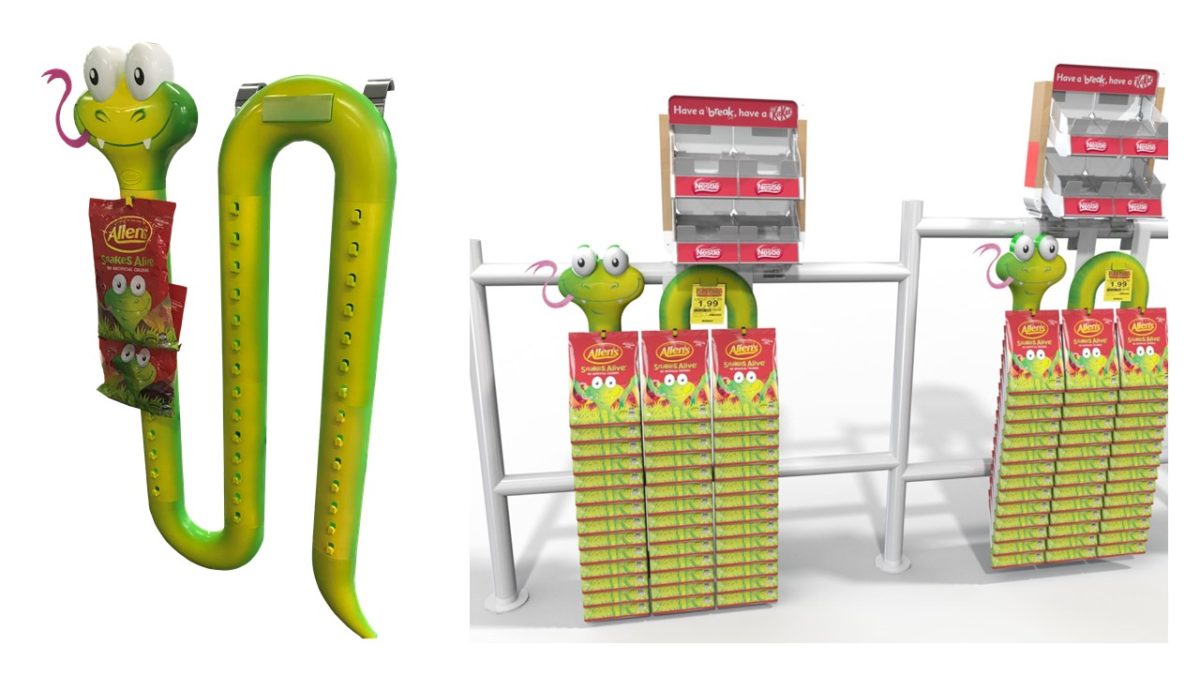 Allen's Snakes Alive Expandable Display
April 2, 2020
Background
Today's challenging retail environment means that brands are looking to cut costs, but at the same time still need to maintain sales growth.
Taking a client brief is an opportunity to find ways to improve and innovate all creative and functional aspects of a retail display.
When we take a new brief for a retail display, we kick into problem solving mode!
Regardless of the briefs nature, 3 things are always at top of mind:
How can we innovate the design regarding sustainability and durability
How can we make our clients marketing spend go further
How can we create solutions that will have a big impact with shoppers
Project
Last year we received a brief that we knew had the potential to become an iconic display for one of Australia's most loved confectionery brands, 'Allen's Snakes Alive'.
As POS solution designers, we love a challenge!
From briefing stage, the Allen's Snakes Alive display project stood out to us as a big opportunity to create an in-store display solution that solved problems facing brand marketers today, whilst standing the test of time from a creative impact point of view.
Creative brief
Create a display solution for 'Snakes Alive' hangsell products to be used at grocery store express check-out area 'rail systems'.
The design needed to be sustainable, flexible and repeatable.
SUSTAINABLE: a semi-permanent/permanent solution that is super cost effective regarding tooling and execution costs.
FLEXIBLE: a design that can adapt size to suit various lengths of rail system in grocery check-outs
REPEATABLE: A solution that retailers want and shoppers love making the Snakes Alive Display an iconic piece of POS design that is reordered for years to come!
Opportunity
The checkout zone (impulse area) is hot property for retailers and brand marketers right now and there are significant opportunities to improve on this exciting in-store space.
Clean-store policies have led POS designers to discover interesting new areas which are perfectly suited to semi-permanent display options in the check-out area – perfect for impulse product sales!
The Solution
The Allen's Snakes Alive display is comprised of 4 unique injection moulded elements: snake head, top 'U' curve, straight body piece and snake tail. These 4 unique parts interlock together making the display modular and expandable. Each display can be arranged in-store to suit various retailer requirements.
All functional display elements have been thoroughly addressed. A series of 7 integrated hangsell hooks form the display component of each straight snake body piece. Price-point areas have been moulded into the top curve of the snake.
The Allen's snake aesthetic is perfectly represented through the snake's three-dimensional form, big round eyes, and pink forked tongue. The Allen's logo is also incorporated into the mould.
Bespoke chrome hooks were created to attach the Snakes Alive display to the express railing making the design blend seamlessly into the stores permanent rails.
The display is highly flexible in size ranging from 500mm wide (3 hangsell strips), to an indefinite length. The length of the display is expanded by simply adding more snake body parts.
The 'Allen's Snakes Alive' display is the perfect disruptor in the grocery check-out zone, adding theatre and fun into the shopper journey in an underutilised area of the store.
With many years of experience designing iconic and memorable retail displays, the team at id8 Studio would love to work with you on your next project. How can we help you deliver your brand and product to shoppers?