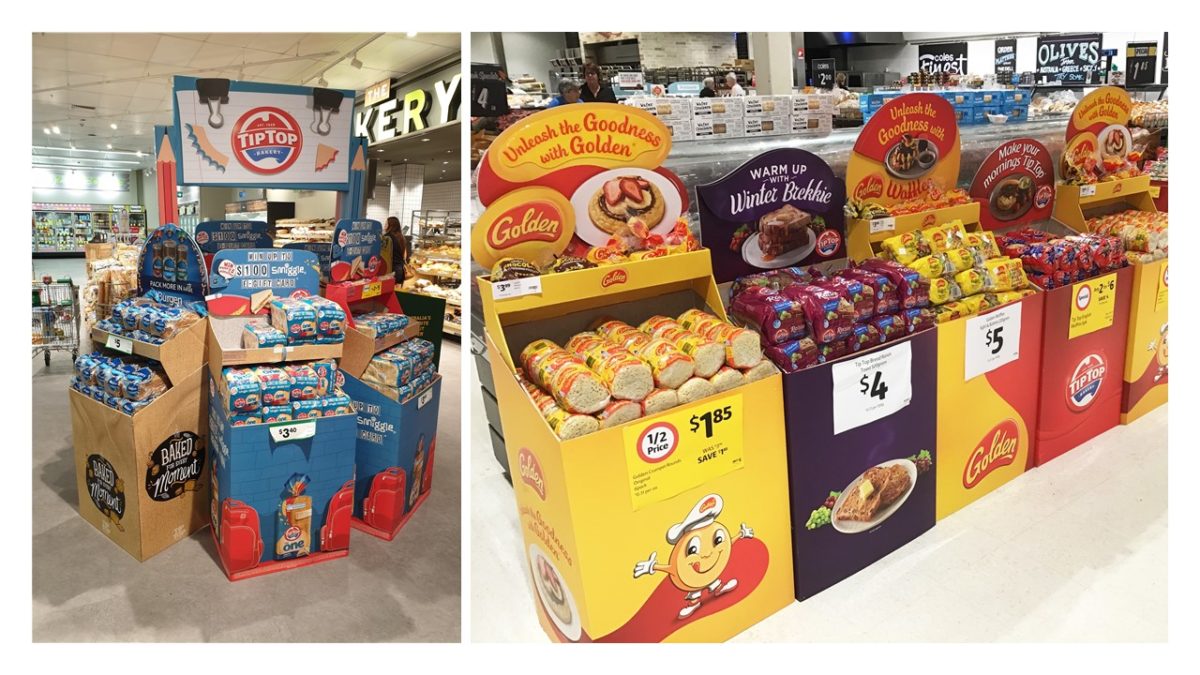 Innovation comes in all shapes and sizes.
Sometimes we come up with a truly great design that feels instantly like a game changer.
It could simply be a display that dramatically saves on assembly time; a major pain point for merchandisers, and that alone can feel like the best thing since sliced bread!
But true innovation pushes past that first feeling of accomplishment; challenging us to think bigger and even better.
Project
When we were briefed to come up with the next generation of dump bins for George Weston Foods, we knew this seemingly straight-forward retail display had far more potential for improvement than what was in market.
Insight
50% of shoppers use bakery breakfast products for breakfast. There are significant opportunities to increase sales and basket value through interrupting shopper on their mission.
Display objective
The new display objective was to drive incremental sales using disruptive off-location dump bins that were also quick and easy for GWF field teams to assemble.
The use of 'out of aisle' displays was incredibly important as they can be front of store for impulse sales, but also remind shoppers to pick up the products from the shelf.
Solution thoughts and value drivers
There had been significant improvements in dump bin design in the previous 5 years, but the innovations were mainly regarding ease of assembly.
What would the next generation of this highly utilised display for the bakery breakfast segment look like? How could we innovate it further?
We set out to create a solution that was sustainable and repeatable with these key values in mind:
Designed to be flat packed and pops open in a quick and effortless way
Minimise materials and weight
Less glue and minimise additional parts
Reduce storage and create freight efficiencies
Reduce costs across the board!
The 'Empty Nester' was born!
The 'Empty Nester' bin design came about through the idea of minimising materials, especially in the base or "nest" area of the display.
Through clever cardboard engineering, we created a brand-new design which no longer required the internal cardboard "nest" previously needed to create strength. This enabled us to fold the display sides inwards when flat (pre-store).
This meant that the flat design was not only smaller in footprint, but it also weighed less and we could fit more units onto a pallet (increase from 40 to 56 displays per pallet).
The 'Empty Nester' next generation dump-bin is 40% more efficient:
Offering cost savings
Reduced storage
Freight efficiencies
The 'Empty Nester' has a smaller pre-assembled size making it easier to carry, assemble and merchandise.
The design is also highly adaptable with variations from single bin, to rows and islands, and many creative options for headers, archways and multi-brand usage.
With many years of experience transforming everyday displays into game changing solutions for field teams and shoppers alike, the team at id8 Studio would love to work with you on your next project.
Challenge us!