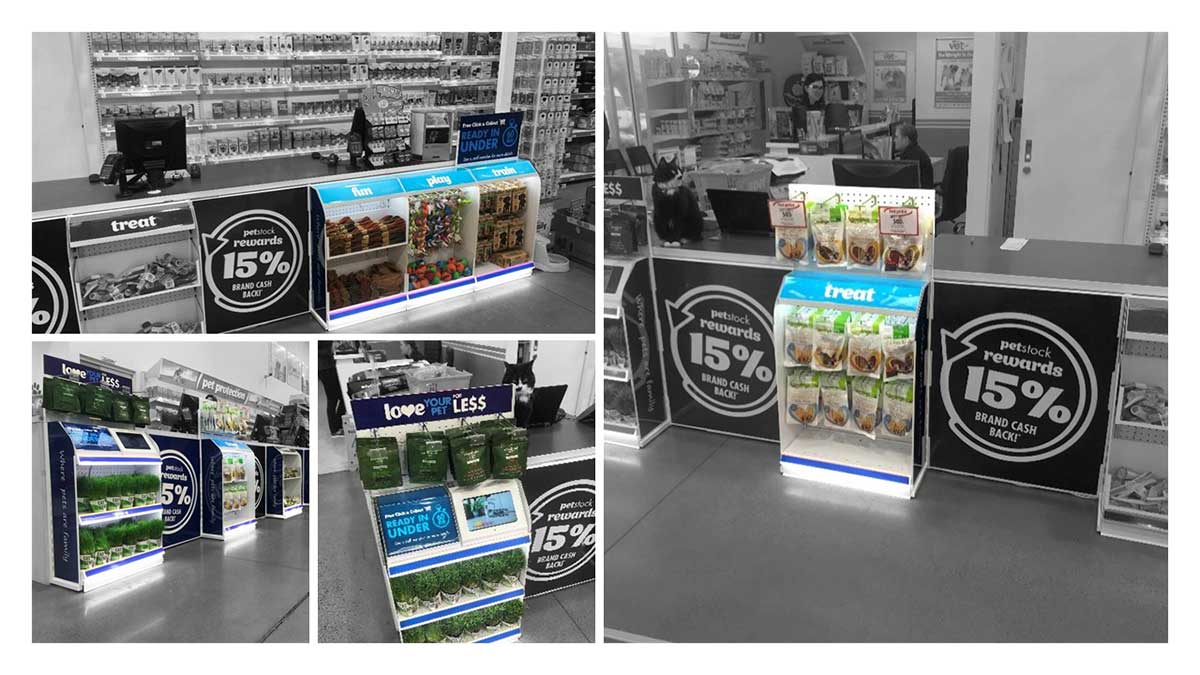 Transforming the checkout shopping experience: PETstock Counter Pods
We are seeing a range of transformations in store layouts and display designs across all retail channels as we know physical retail is not dead, but boring retail is!
There's no doubt about it, the checkout zone is hot property for retailers and brand marketers right now. There are significant opportunities to improve this almost redundant zone.
The fact is that people are coming to store these days with 2 things in mind; 1) Product and 2) Experience. Shoppers don't need to go to stores for the "transaction" anymore as they have that service available online. So as brand marketers, we need to see that there are significant opportunities in what used to be a purely transactional area of the past.
PETstock are one of the larger retailers realising the potential of their counter space.
With more than 140 stores across Australia and New Zealand, PETstock knew that they could not only capitalised on their large counter area's creating a new sellable space, but also create a better path to purchase for shoppers' offerings new products and savings at front of store.
Their existing counter was ripe for transformation; a long counter space, with 3-4 POS terminals, and basic square wire dump bins holding last minute impulse purchase type products. The right idea was there; you do need these things, but they were very cold, lacking experience and incentive to pick up that last add on purchase.
Making the most of retail space
Creating new display opportunity's in-store that increase dwell (experience) time and sales (product) has become a focus area of our business. It aligns well with our mission to develop creative retail display solutions to improve shopper experience and increase retail ROI.
The PETstock opportunity is the perfect example to showcase counter transformation.
We created a modular display solution designed to suit ALL POS space applications; shelf display, hangsell and dump bin, making the display adaptable for most products ranges!
As the counter is super valuable space, and shoppers experience it up close, signage, illumination and presentation is key. We designed some bespoke LED lighting for shelf fronts and a seamless lightbox aesthetic for the angled header space.
We call the design counter "Pods" as a departure from the word "display". The "Pods" are a complete solution that can be added to and have a sophisticated aesthetic that allows best presentation and marketing of brand and product alike.
These solutions were rolled out in 139 locations nationally.
Get in contact with us to talk about retail display transformation!