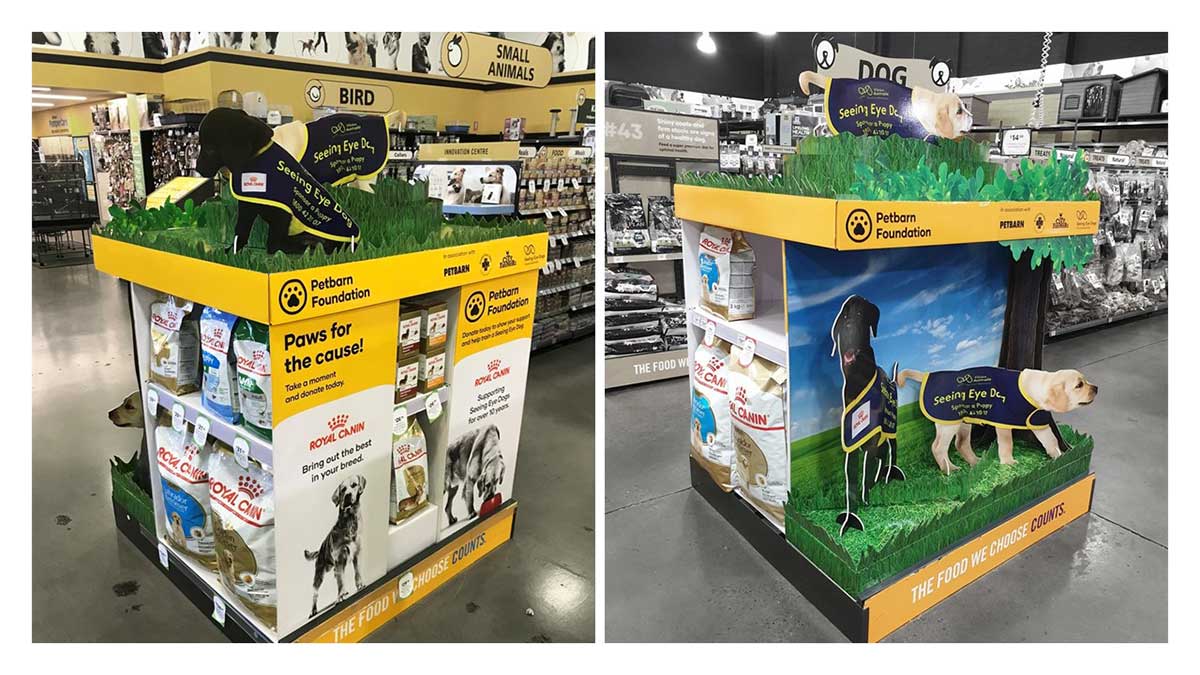 More than a Pallet Display
As designers and producers of retail displays working with exciting brands, there is no way that we can get away with pure stock holding function for the pallet displays these clients need.
Today more than ever, disruption is in the middle of the aisles; the heart of the store.
When we think 'pallet', we think function of course, but it's what's beyond function that makes the biggest brand statement.
All eyes go to these big tower displays so we always get a good understanding at briefing stage of the communication required to talk to shoppers, not just the functional display stock holding part. After all, good designers live by the principle 'form follows function', so when we think pallet display, we include aesthetic form and visual communication as a big part of our creative process. And if we can have fun with the theme and make a really big statement in store, well that's event better!
Do you remember those life size money boxes for Guide Dogs? Sure you do! They are still being used in supermarkets around Australia today. They are iconic!
It's not so simple with temporary displays, that hold a lot of stock, but the aim is the same; make it iconic, make it high impact and make the brand memorable.
Here is a bit about background to of our recent pallets displays that stand out for all the right reasons!
Seeing Eye Dog Display, Petbarn
Creating instore theatre was key to disrupting the shopper and driving them to learn more about the charity fundraising campaign.
Through the use of innovative recyclable materials, we engineered a display solution that was focused heavily on theatre component as well as providing shelf solution for variety of products.
The displays were flat packed in single cartons and delivered to 200 + stores across Australia. Assembly instructions provided in each pack assisting store of quick and easy assembly.
Display provided great visibility instore while allowing the flexibility to display product and communicate fundraiser messaging.
The pallet displays were produced for all stores, using bold colours for maximum impact and created a point of difference in the market, driving sales results and exposure for a great charity. Upon campaign completion stores had the option to pack down the display and store for future rerun campaign.
Get in contact with us to talk about retail display transformation!