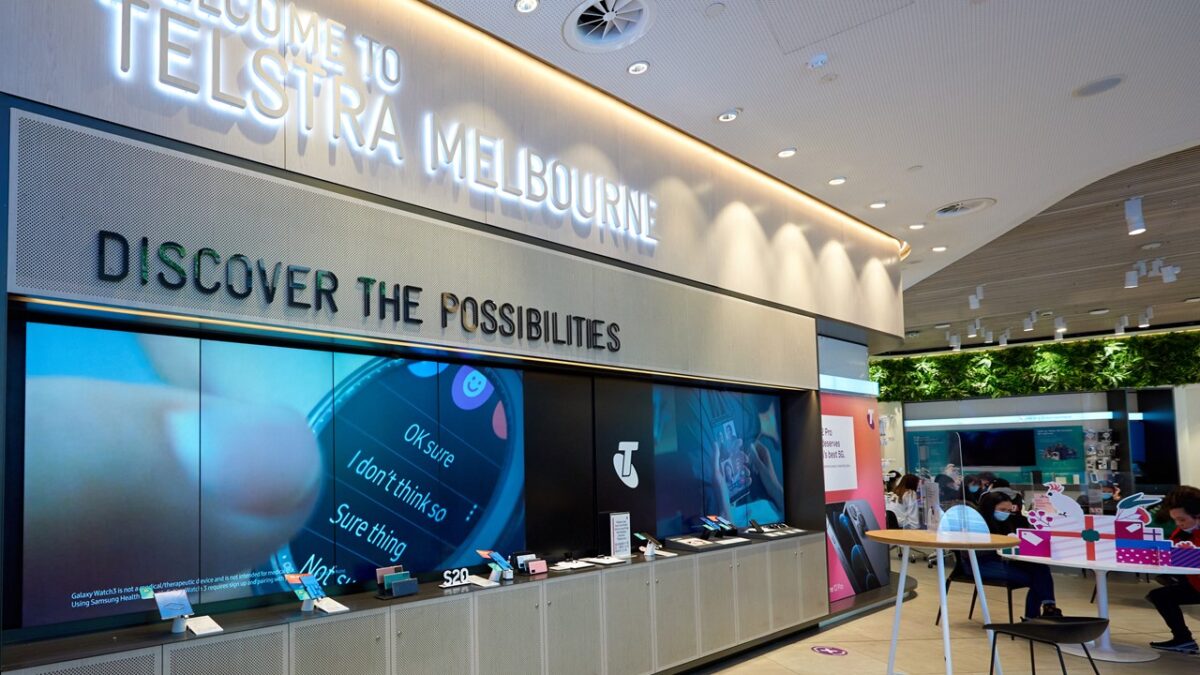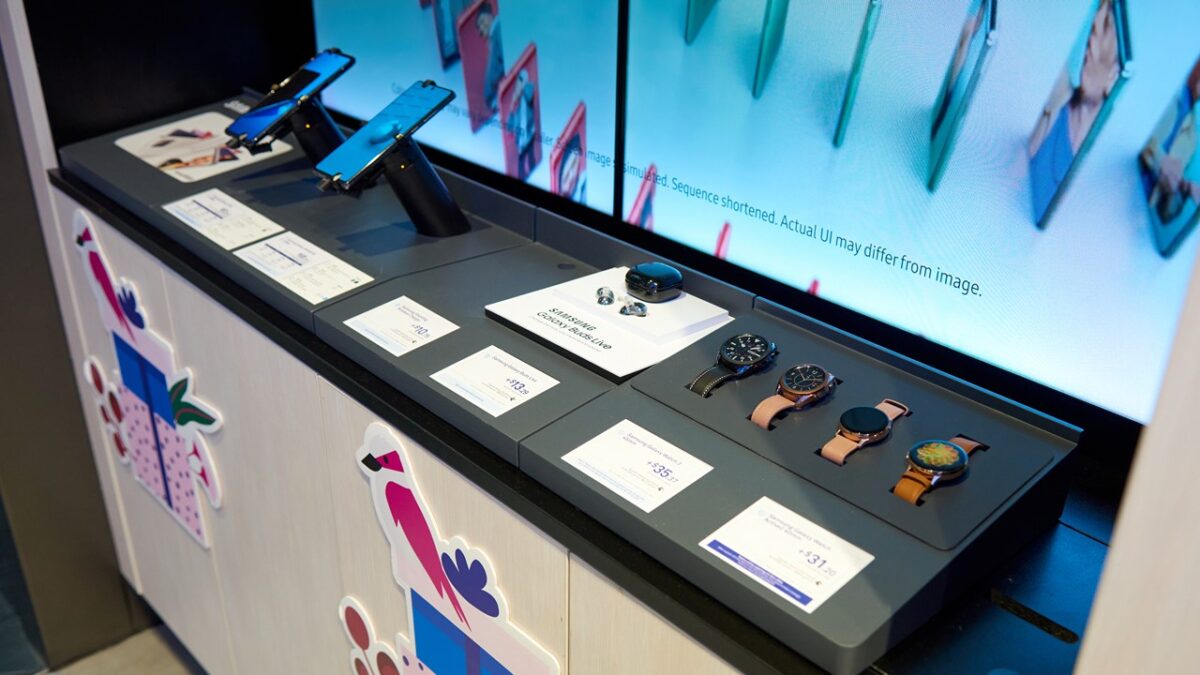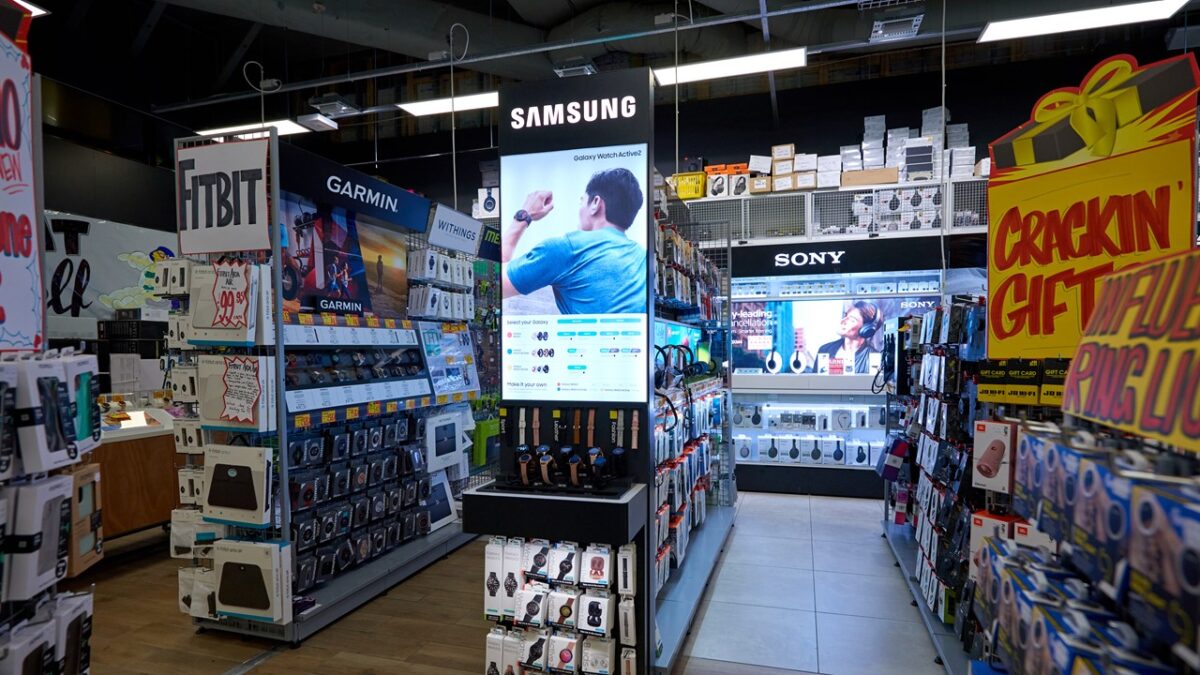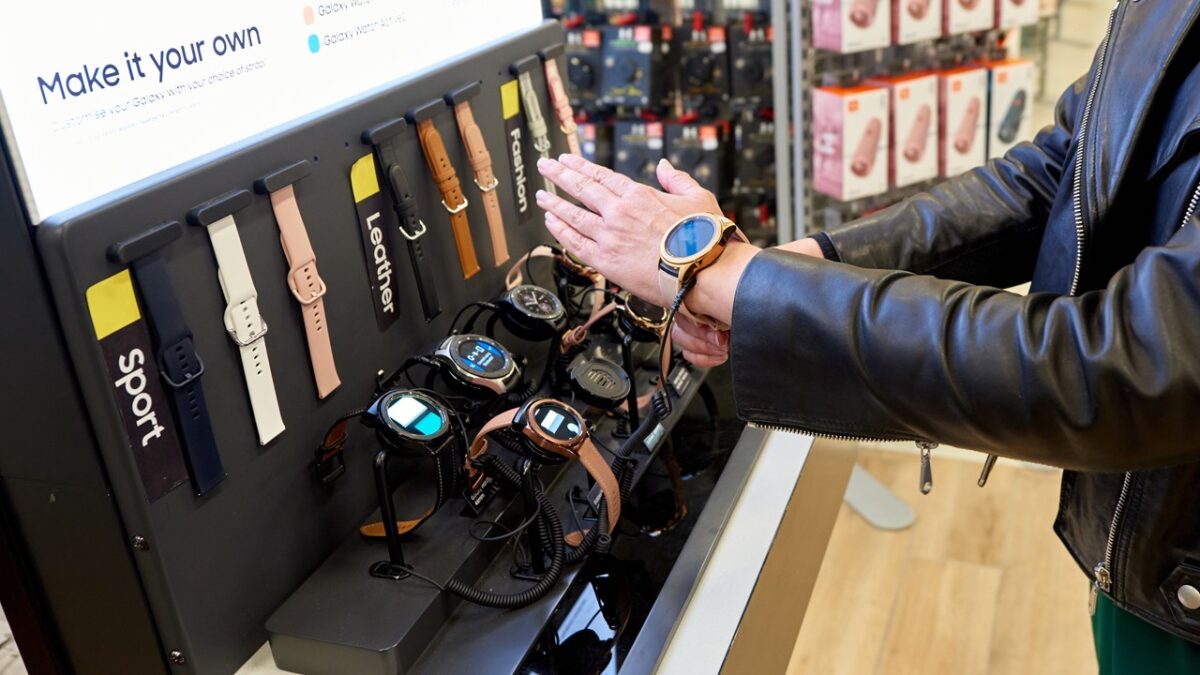 Retail Display Solutions for Samsung Wearables product range
On Tuesday we hit the stores to check out our latest retail display solutions for the Samsung Wearables range in JB HiFi and Telstra stores. With so much growth in the global wearables market, it looks like these displays have been activated just in time for Christmas making the path to purchase an easy and interactive experience for both shoppers and retailers.
About Samsung Wearables
In 2018 Samsung Wearables joined the Galaxy family
There are a wide range of wearable products including the Galaxy Watch, Galaxy Buds+, Galaxy Watch Active2, Galaxy Fit, and more.
2020 Market Insights
Consumers are buying wearable products that they can use to check their health during the coronavirus pandemic.
Although most consumers plan to spend less this year due to the pandemic, wearable device sales have grown by 30% (wearable sales globally) or more compared to last year.
Samsung Electronics debuted the Galaxy Watch 3 this year. The device includes a blood oxygen monitor, as well as features for sleep and blood pressure.
Samsung Wearables Retail Solution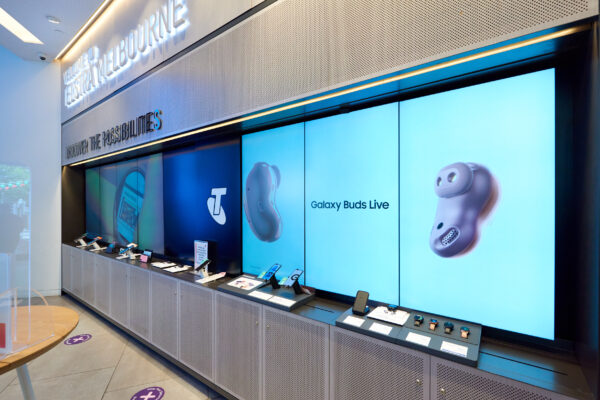 Telstra Discovery Centre, Melbourne
The overarching brief was to create instore displays for Samsung's Wearable range for shoppers; driving engagement (try on, touch, test features), creating a solution to provide a seamless instore shopping experience in true "Samsung experience" style across multiple retail channels (SES, Telstra, JB HiFi, Vodafone, Optus) on path to purchase.
Our objective was to create instore display solutions that communicated the same brand experience, with a uniform feel across a diverse range of channels.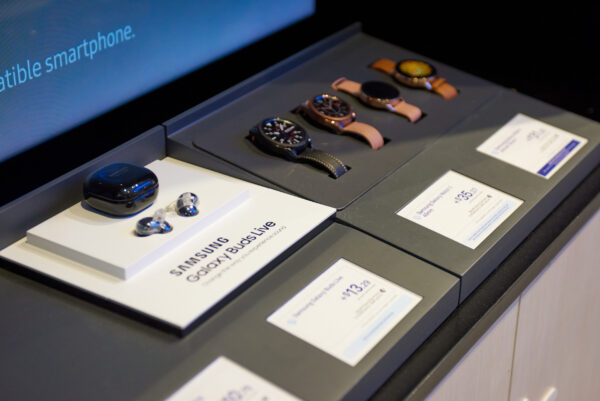 Samsung clean lines. Telstra stores utilise a sloped design for optimum presentation
Pre-2020 Samsung wearables display
Prior to this year, the Wearables range was much smaller. The devices were presented alongside mobile phones and tablets in JB HiFi stores. The range also had a secondary placement on aisle endcaps on small mat displays which held 3 devices.
The early Wearable displays supported the range at the time but did not take into consideration the growth of the product range which included the introduction of a strap accessory range.
A display solution was needed that would be a dedicated branded fixture to display the entire range together.
NEW 2020 Samsung wearables display brief
We were tasked to engineer Samsung's display concepts into workable displays that would fit within the existing store fixture structure, and hero the Wearables range in one place.
Brand and display requirements
Brand consistency: Demonstrate brand consistency across retail channels including JB HiFi, Telstra, Optus, Vodafone and Samsung Experience Stores
Display solutions: Full range of display solutions including wall bays, table tops, endcaps, mini counters and island benches.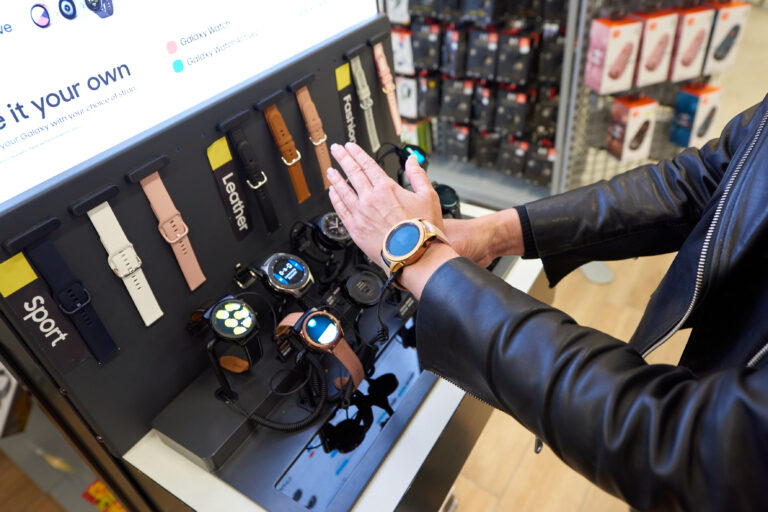 Aisle end display, JB HiFi, Melbourne Central
Customer experience
The display functionality in all cases (excluding Telstra) needed to have customer experience and retail ease at top of mind.
Shoppers are able to interact with, try on and feel the materials of the watch and straps; to see the watch face on your arm, try the various straps against your skin. It was important for straps to be accessible in JB HiFi rather than behind a screen. The price ticketing should correspond with the models, so the customer has all information on hand before calling store staff.
Shopper experience with security in mind
Alarmed wires are tethered to each device to enable shopper to try on but not remove from the display. Security devices have been integrated into the design of the complete solution with discreetly housed alarm hardware housed beneath the benches.
We created a fixed design for Telstra stores and their sales team members assisting shoppers to choose devices to try on.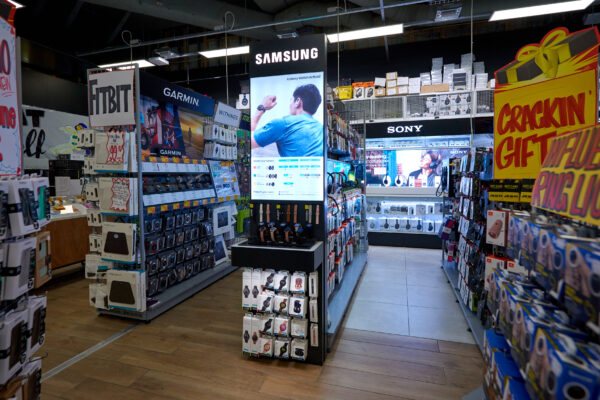 Standing out from the crowd. Aisle end display at JB HiFi
Design solution
Design aesthetics: Clean lines, and DOMINO dark grey colour for all Samsung IM fixture.
Materials: MDF construction with matte Domino powder coat or 2 pack PU coating. Logos are silk screen printed directly onto display modules.
The device mats that present the watches and straps also have a 2 pack finish aligning with the complete fixture colours.
Telstra stores utilise a sloped design for optimum presentation and visual impact as the devices are fixed to the display.
Brand and graphic components: All graphics are updateable utilising a combination of fabric lightboxes and graphic screens with easy release change-out functionality.
Stock holding:
JB HiFi solution: 9 x Wearables devices and up to 10 straps
Telstra solution: 2 x phones/1 x wireless charger/1 x ear buds set/4 x wearables devices
SES Wall Bays: 12 x Wearables devices
SES Tables: 12 x Wearables devices
Activation: The Samsung Wearables retail display solution has been activated nationally in more than 300 stores. JB HiFI and Telstra stores were coordinated by id8 Studio with Samsung's team managing Optus and Vodafone outlets.
Activation also included specialist technical installation of all electronic 'Kumoh' and 'invue' alarm security devices; a grand undertaking coordinating store manager, installation teams, freight, Cheil stakeholders. But with product security and shopper experience at front of mind, the security devices were a key feature of the entire instore display solution.
We have also rolled out complete solutions included bench top and wall displays in Australia's 3 Samsung Experience Stores.
The project took place over 14 weeks, from design engineering to instore activation.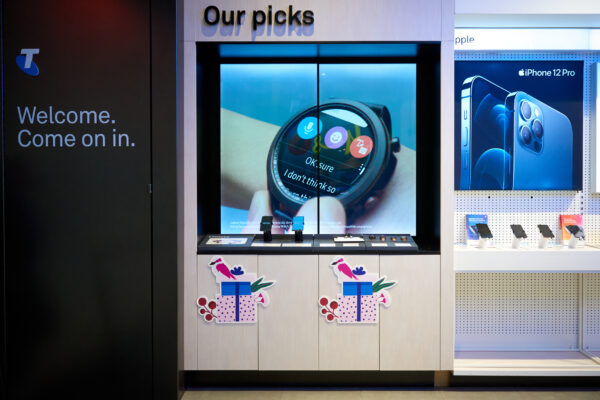 'Our Picks' zone at Telstra Chadstone.
When it comes to improving the shopper experience instore, you need to plan out the entire path to purchase. The Samsung Wearables display solutions promote brand and product in a way that is exclusive to Samsung, whilst enabling customers to securely try out the device options in their own way. This solution creates a seamless instore Samsung shopping experience.