JBL Soundbar Redress.
With the Soundbar category achieving 8.6% growth in Australia since 2020, JBL saw the opportunity to lift their brand and range, by updating their existing display through a clever dress-up solution.
Thank you to our partners at JBL for working with the team at id8 Studio to assist in delivering an exceptional display which is achieving fantastic results for brand and retailers alike.
---
Background
The global soundbar industry is primarily driven by the increasing popularity of subscription-based media platforms, such as Amazon Prime, Apple TV, Disney, and Netflix.
Furthermore, rapid digitization, combined with the growing usage of smart TVs, has fueled global demand for soundbars.
As such, soundbars are a focus category for brands and retailers, seeing an 8.6% growth in Australia since 2020.
Fast forward to 2022, with a major branding refresh being rolled out, JBL needed to breathe new life into existing retail displays for a consistent brand experience.
Our Role
id8 Studio was approached by JBL to update graphics and reinvigorate Soundbar Displays within JB HiFi and The Good Guys stores.
The current displays had been in store for a few years. Our objective was to get more longevity out of the existing display by creating an impactful upgrade which would increase the visibility of the brand whilst being cost-effective.
We engaged with our offshore supply chain partners to provide cost savings in the production process of the JBL Soundbar Displays for 147 JB HI FI stores and 48 Good Guys stores nationwide.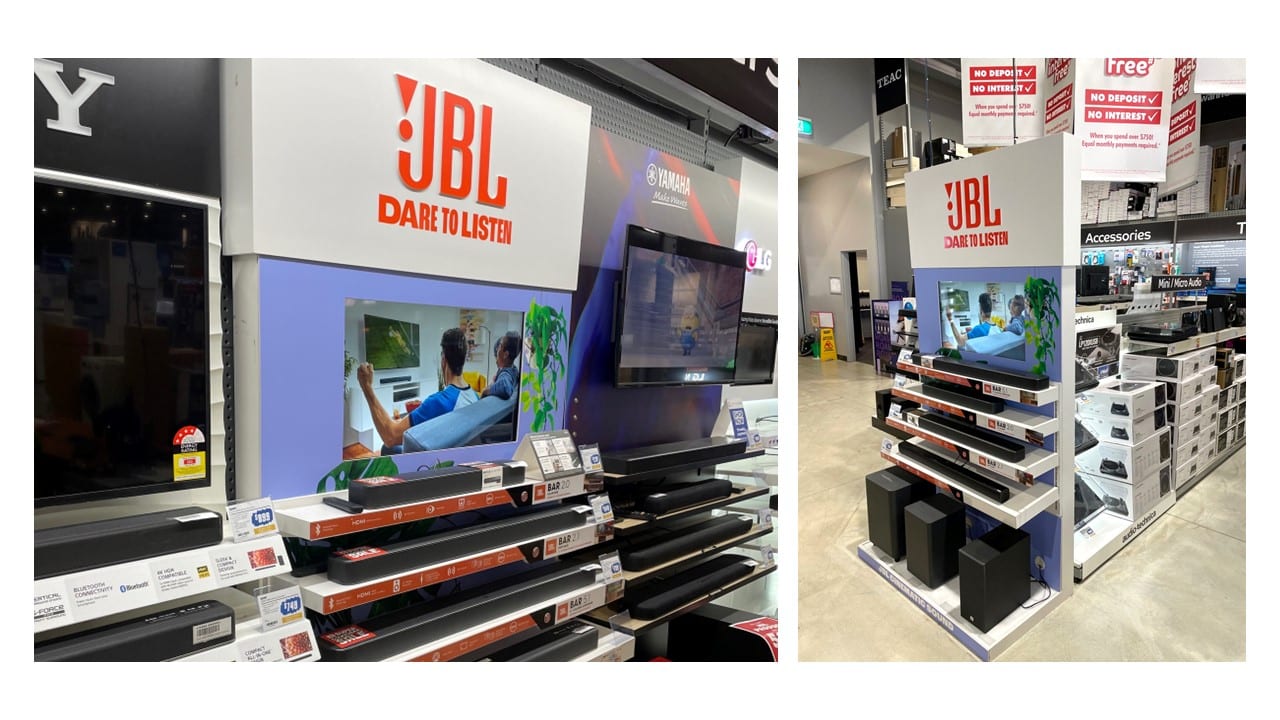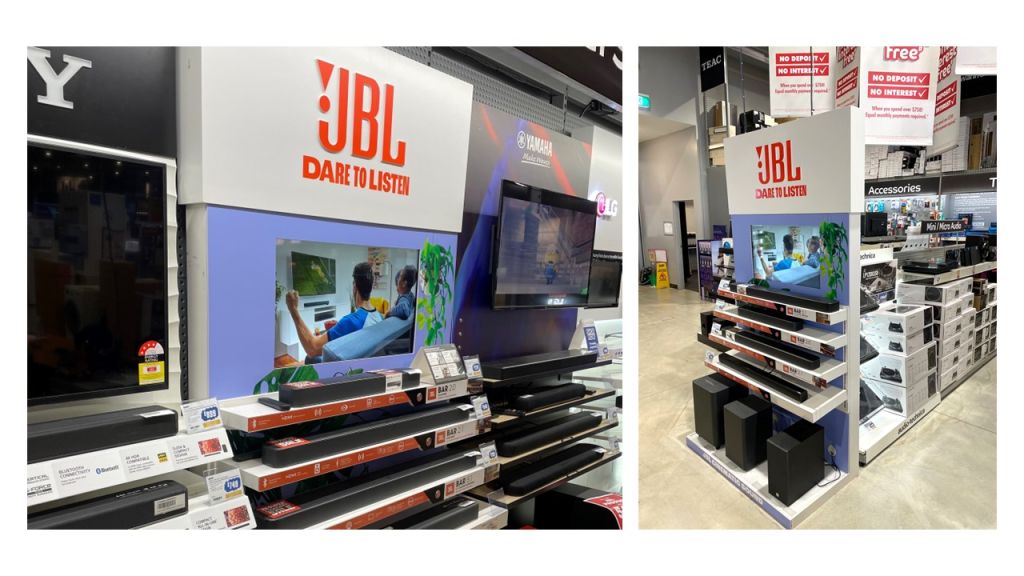 Special attention was given to the implementation, with 'no tools' for merchandisers being a key objective in the brief. Our designers were careful to ensure all components were lightweight, and simple to fix in place.
Display Creative
JBL has introduced a fun, vibrant colour palette which speaks directly to the youthful target demographic, and trendy lifestyle imagery which takes us into their living room. JBL's tagline, DARE TO LISTEN, exemplifies the Brand Character of being the Clever Co-Conspirator. Spirited, encouraging and a little tongue-in-cheek, the tagline acts as a rallying cry and a playful challenge to get up and engage in the world around you.
id8 came up with a clever header design to mask the old version. The header was produced in 2 pack painted white MDF with individually cut orange lettering. The header was attached to the old display by simply sliding it over the existing header eliminating the use of tools and fittings.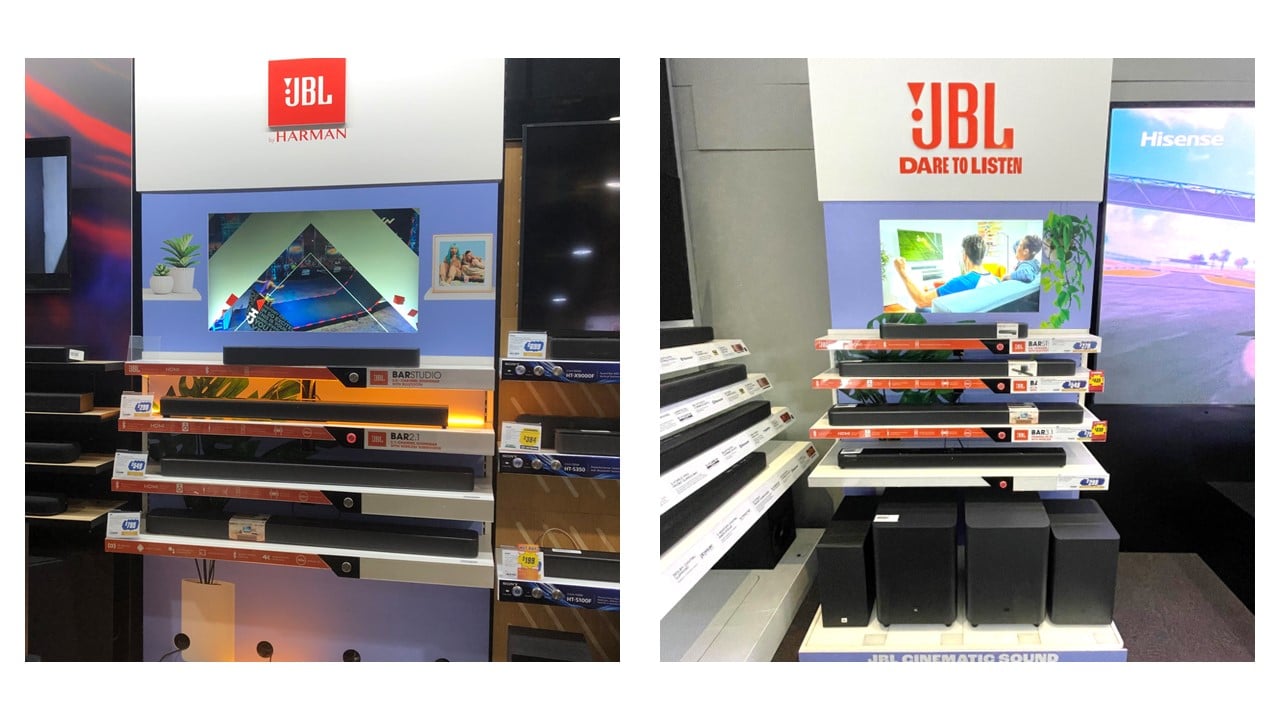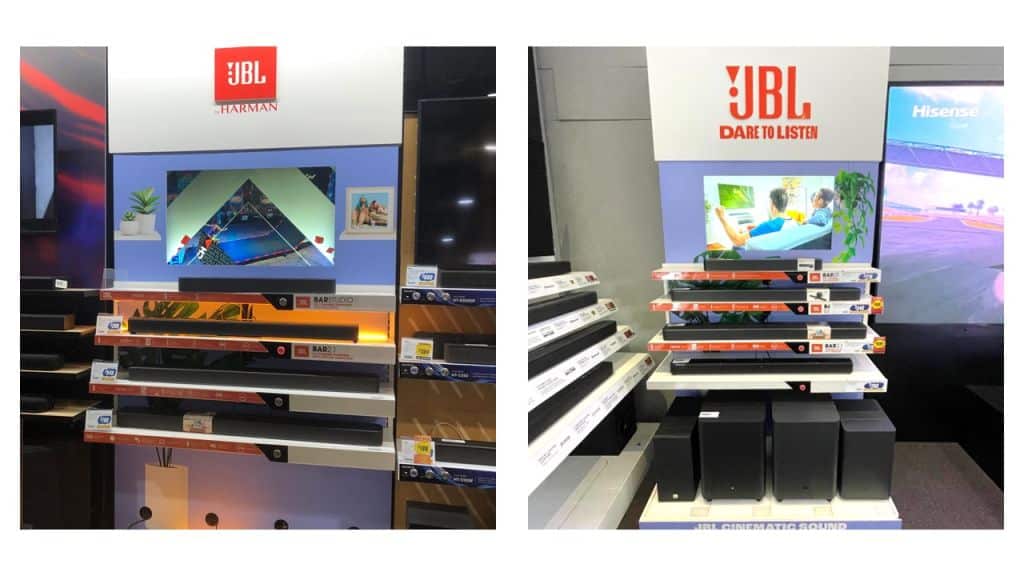 Materials, Manufacturing & Execution
A simple dress up kit consisting of digitally printed PVC panels, adhered to the front of the display. A new premium finished 2 pack painted MDF header panel with 3D cut acrylic lettering was used for The Good Guys stores and a white acrylic header used for JB HI-FI. Other details include:
Direct UV prints to PVC panels cut to size to fit between shelving.
TGG Header signs were produced from 12mm thick MDF timber sprayed 2 pack Satin white. 3D acrylic letters applied to the face "JBL Dare to Listen"
JB HI FI Headers were produced from white acrylic and fabricated to hook over the existing display. 3D Protruding acrylic JBL logo was applied to the face.
Tables were shipped to our domestic 3PL partner for national distribution, with the installation schedule of some 'hard to reach' stores project managed and reported meticulously by the id8 Operations team.
Results
JBL has been delighted to implement their brand update in major channel partners whilst increasing the longevity of the existing display. The cost-effective smart redress kit was the perfect solution to achieve brand goals and budget alike.
Feedback from the field around the ease of assembly has seen exceptional activation compliance.
The simplicity of a new header has been instrumental in lifting the JBL brand in the competitive retail space.
JBL has seen impressive sales growth since the execution, whilst channel partners JB Hi-Fi and The Good Guys and have enjoyed a further elevation of the Soundbar category.
Get in touch with us to find out more [email protected]