Play Table Reinvention.
After the successful Samsung Mobile Interactive Play Tables were rolled out nationally in JB Hi-Fi stores in 2018, it was time to reinvigorate and redevelop the display to create a 360-degree experience, with flexibility and updateability at top of mind.
Thank you Cheil Australia for partnering with us to bring the Samsung 360 Play Tables to life at The Good Guys stores.
---
The Background
Samsung has seen impressive increases in sales and market share in local retailers resulting from the JB Hi-Fi 'Play Tables' since their introduction 4 years ago.
Samsung's objective with the original display table was to ensure that the brand experience at retail created a desire for consumers to associate with the brand, and choose to purchase their products.
These premium branded display fixtures complete with; interactive device merchandising, illuminated graphics, and retailer specific communication area, have served to elevate the in-store brand experience across JB Hi-Fi stores.
Rethinking the next iteration of the Play Table
Constantly thinking about how we can improve customer experience through display evolution in-store, Samsung worked with the id8 team to create a reinvention of the Play Tables with channel partners The Good Guys.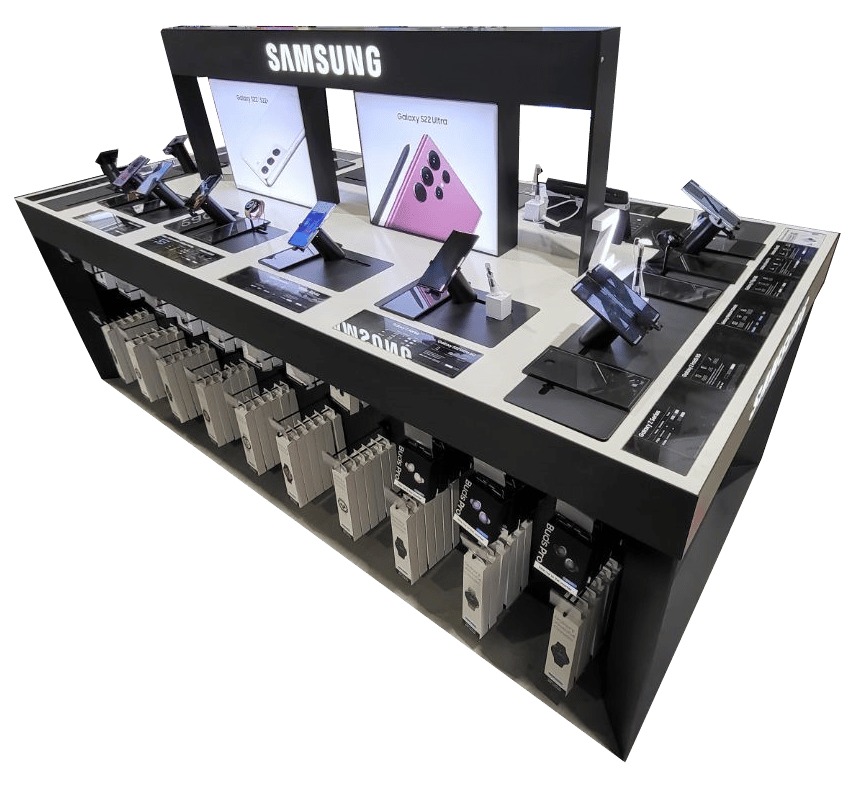 Introducing the '360 Play Table': Our Role
Having been engaged to produce the previous Play Table display, confidence and reliability were key factors in including id8 Studio as project partners for the new 360 Play Tables. Our role was to grow and enhance the displays key features to meet the needs of the 2022 shopper, Samsung, retailer alike.
Objective:
Leverage our experience in quality materials and finishes to deliver the highest standard for Samsung
Action learnings and modifications from previous designs
Upgrade the tables to include a device 'ecosystem' – a drop-in mat (including feature products, Wearables devices and accessories) on both table ends, creating a '360' customer experience
Engage with offshore supply chain to provide cost savings in the production process and roll out 11 x new units smoothly with national installation.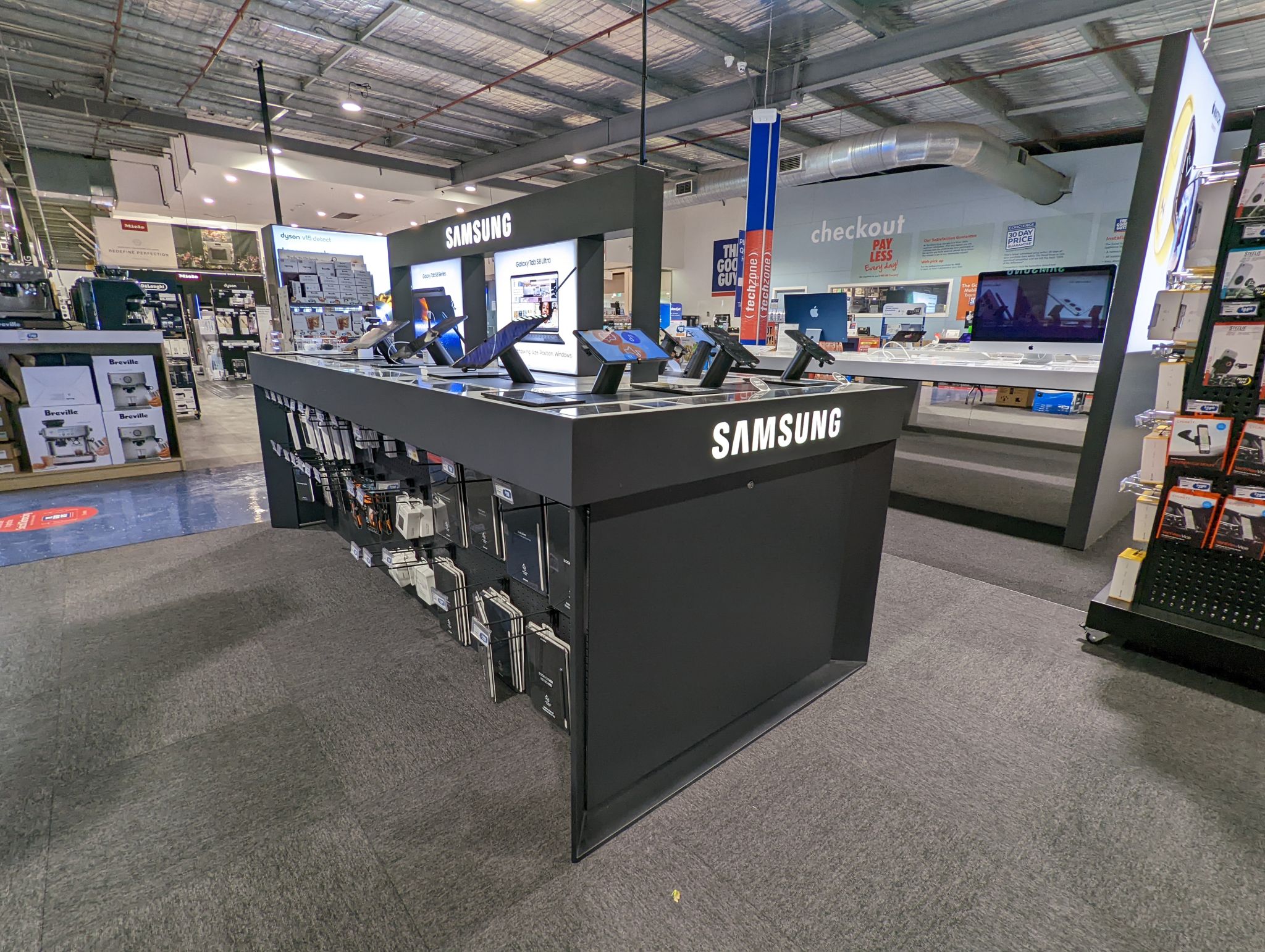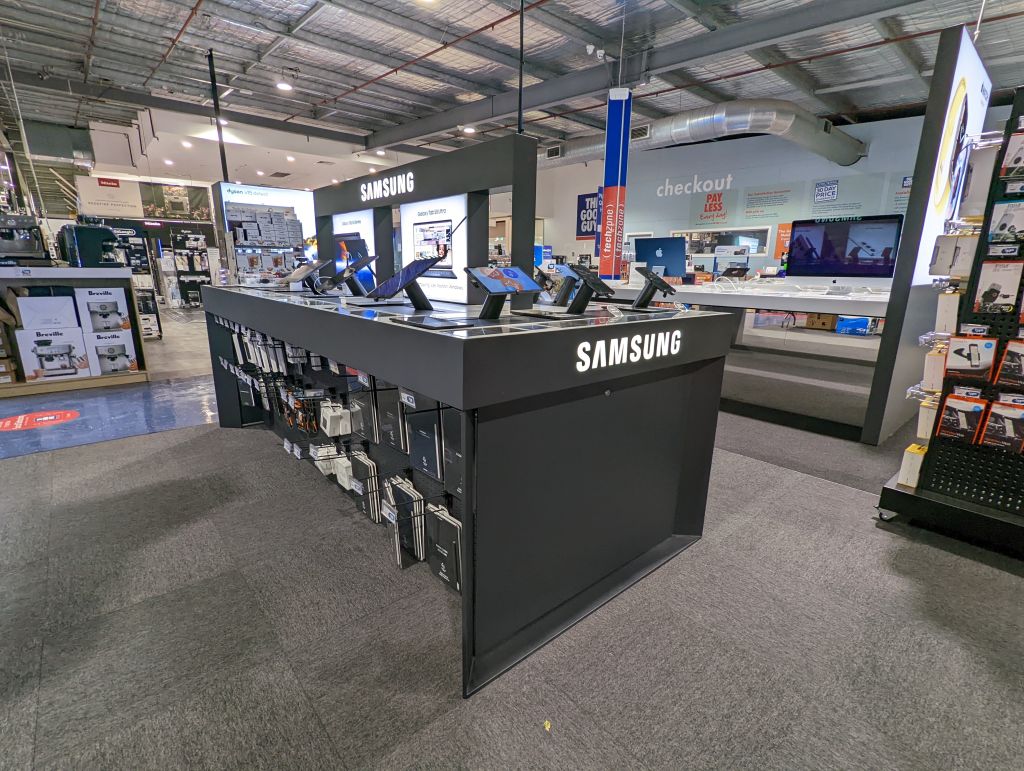 Display Creative
Each table consists of 8 x modular device mats and 2 x Ecosystem mats, each with their own corresponding graphic inlay area. Since each mat can display multiple devices, the printed graphics are tiled; one for each product, so they may be changed out with ranging updates.
To complete the 360 story, there are 2 x double sided lightboxes with LED lit updateable campaign graphics, displaying the current Samsung creative in bright, vibrant colours.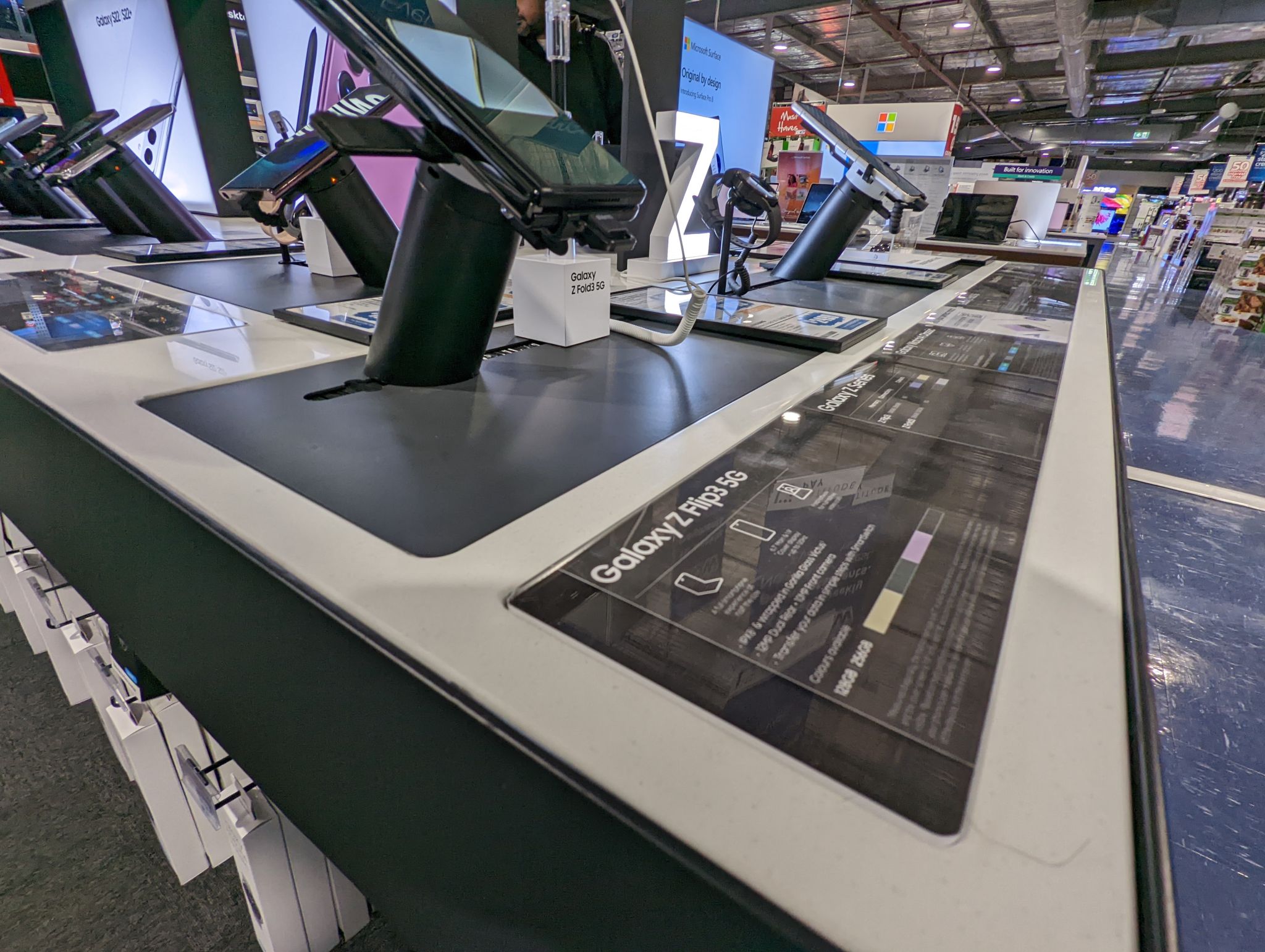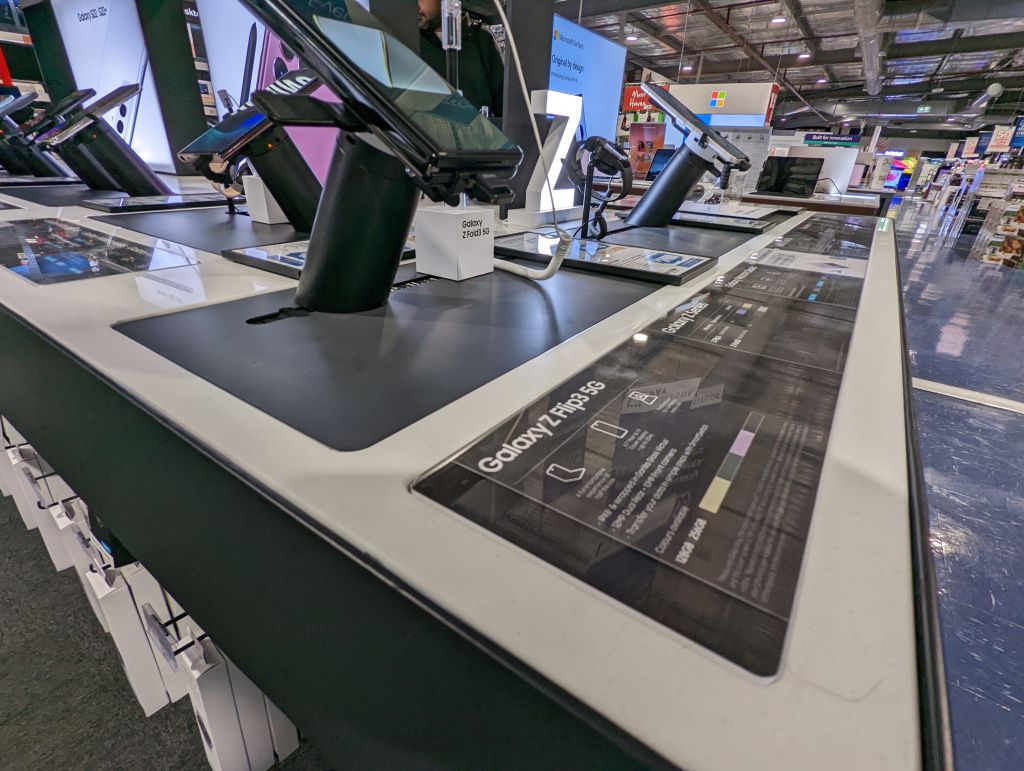 Materials, Manufacturing & Execution
Leaning on an understanding of the existing Samsung brand guidelines, we were able to align our offshore supply chain materials and finishes with previous local standards.
This includes:
Powder coated steel frame, legs, and cladding to match brand grey
Overhead gantry with illuminated logo both sides
Staron solid surface polished tabletops
Moulded fast backs and wire hook powder coating and thickness
Perforated panel, on each side of tables, powder coat finish, for hanging merchandise and accessories
Locking mechanism for accessing drop-in mats, as well as ventilated access panels beneath the table
Store security-matched locking for 2 storage drawers on each end of the table.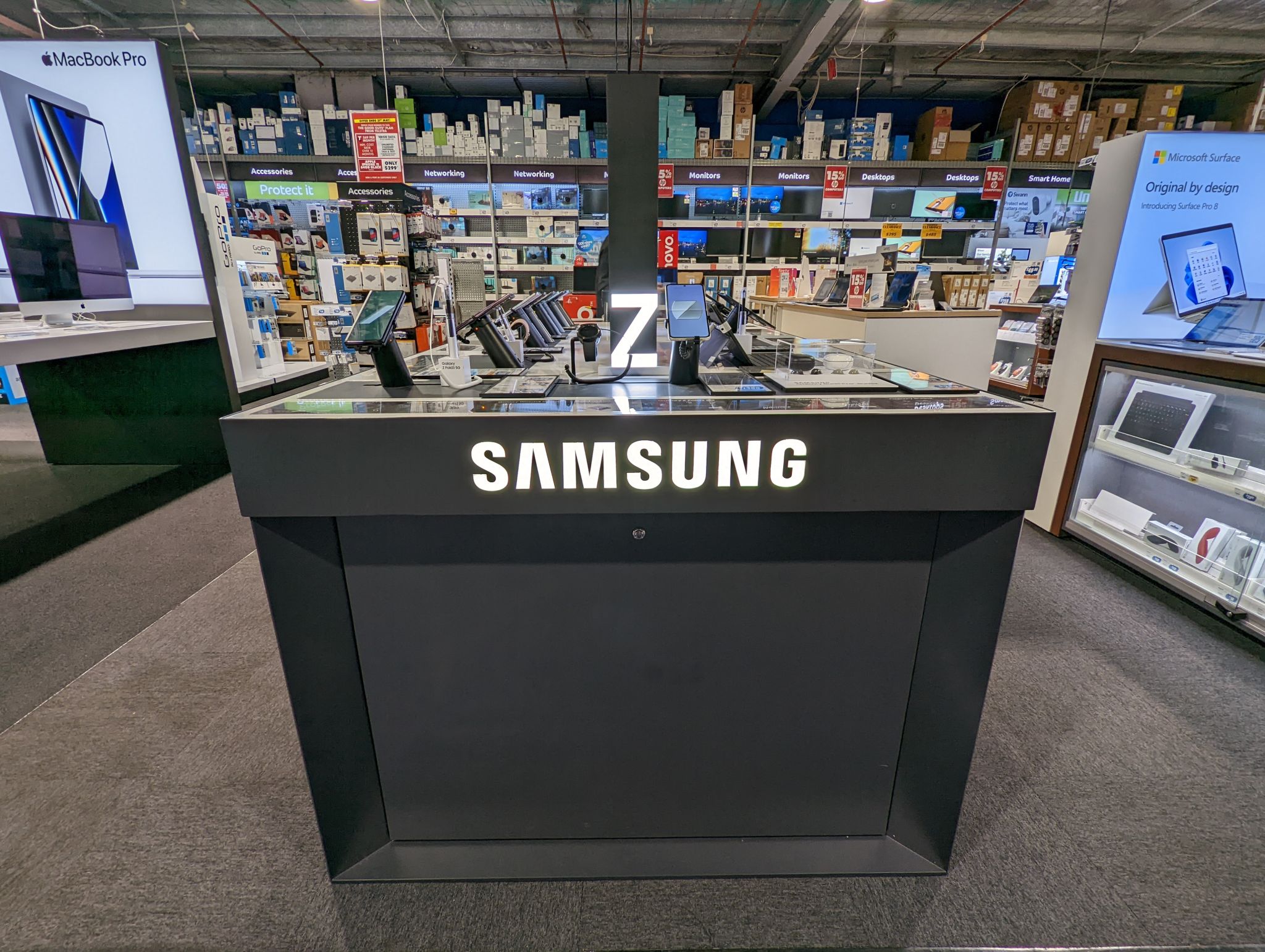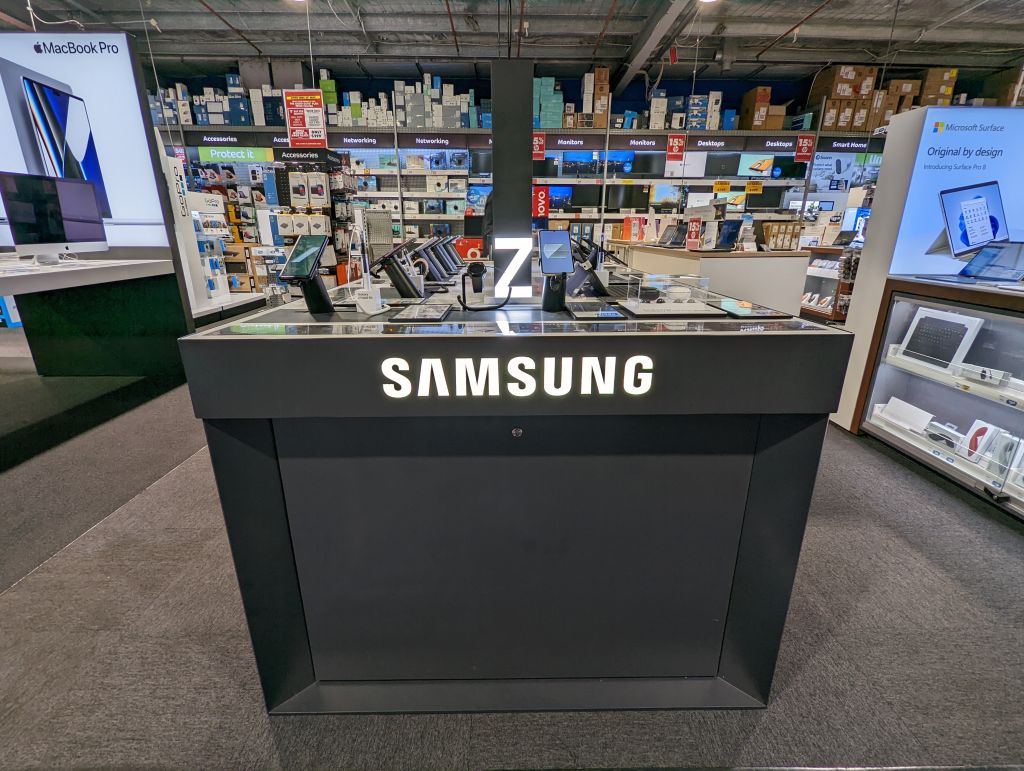 Delivery & Installation
We shipped the 360 Play Tables to our domestic 3PL partner for national distribution, with the installation schedule project managed and reported meticulously by our Operations team.
Results
The Good Guys have seen impressive results in fixture stores versus non-fixture stores and are keen to maximise 360 Play Table executions across their national footprint. Great to partner once again with Cheil to deliver amazing results for Samsung Australia!
Get in touch with us to find out more [email protected]