Setting the mood in-store for JD's new RTD product launch.
This month Jack Daniel's has had their biggest launch of the year with Jack Daniel's Tennessee Apple & Soda ready-to-drink product.
id8 Studio's role was to create a range of high impact POS displays for Off Premise environments that highlighted the new can format and crisp flavour.
---
Background
"The RTD category has been the fastest-growing drinks segment globally by volume since 2018, with dark RTD non-cola offerings growing at 10% and Jack Daniel's the number one RTD trademark in Australia, selling more than 4 million cases per year." New Releases: Drinks Digest
RTD consumers are keen to try new and innovative flavours, and this new product innovation blending Tennessee Apple & Soda has created a refreshing soda mixer designed to be enjoyed anytime of the day.
POS Objective
Whist the fresh and vibrant metallic slim-line can alone makes the Jack Daniel's Tennessee Apple & Soda stand out from other Jack Daniel's traditional products, strong POS touch points were required to assist in;
Calling out the exciting an innovative NEW product
Disrupt shoppers looking for alternatives on their path to purchase
Take shoppers on a journey in-store to locate the new product in both ambient and refrigerated zones
Our objective was to drive awareness and trial through in store visibility. The POS needed to be innovative, impactful and call the shopper to act! A large focus of the displays was on educating shoppers on the "NEW" and highlight the refreshing Apple Flavour.
POS Solution
We presented two rounds of innovative concepts and then collaborated with our clients at Brown-Forman to create a Counter Unit, Double header card, Single header card and bollards.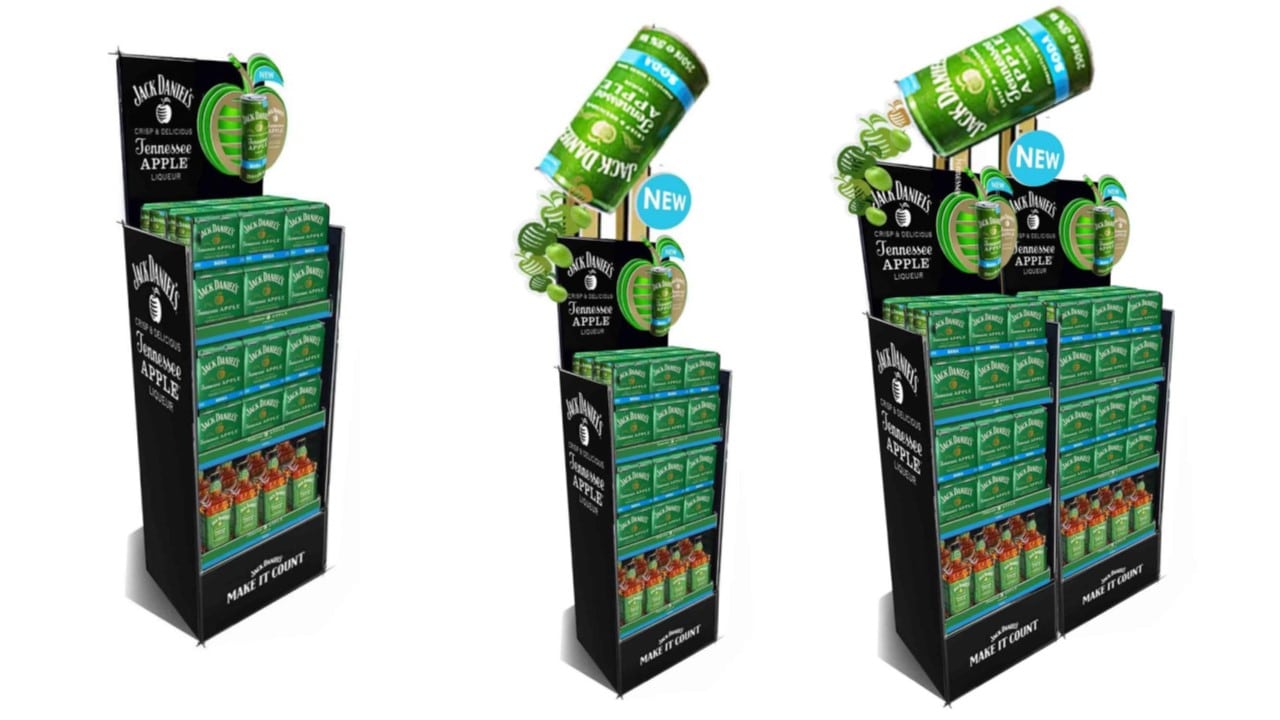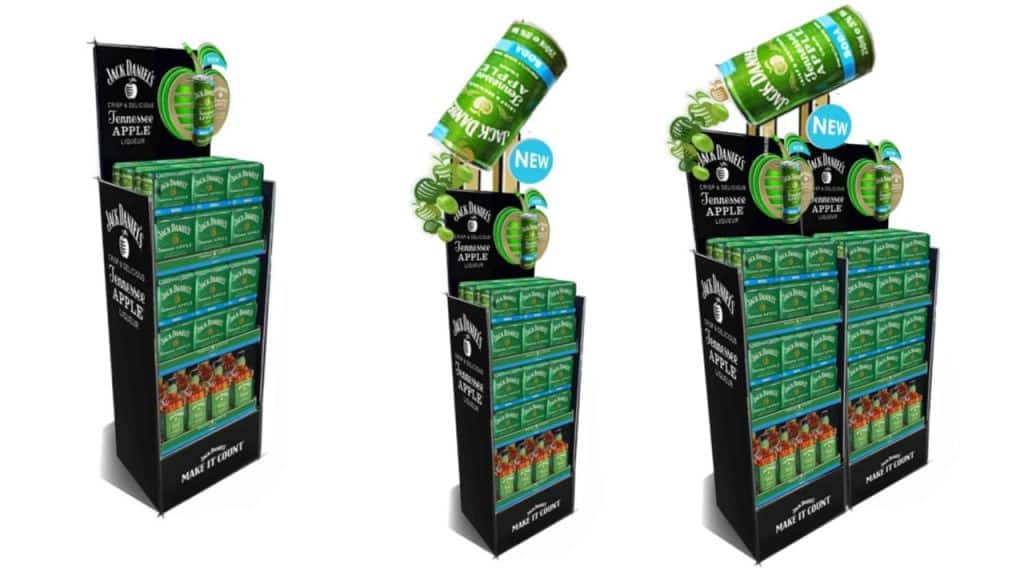 POS Creative
The key brand elements to Jack Daniel's Tennessee Apple & Soda RTD product are the Apple graphic and new slim-line can.
We found inspiration in these signature brand elements along with the new colour pallet and applied them creatively across all POS display pieces.
The use of vibrant green and metallic gold colours across all POS was a significant departure from Jack Daniel's traditional dark colours, allowing the displays to stand-out to shoppers looking for something different and new. The new colours also supported the Tennessee Apple & Soda's key messaging "IF GOLDEN HOUR HAD A FLAVOUR." Aligning with the messaging, the displays design supported the product as the perfect sunset drink.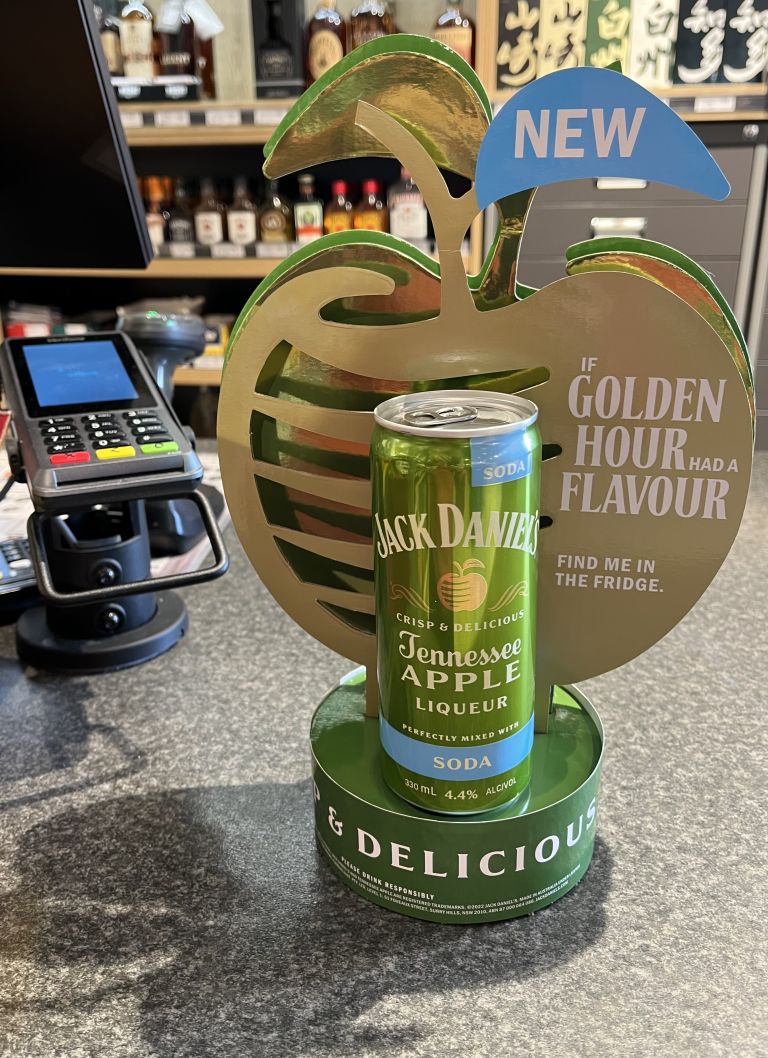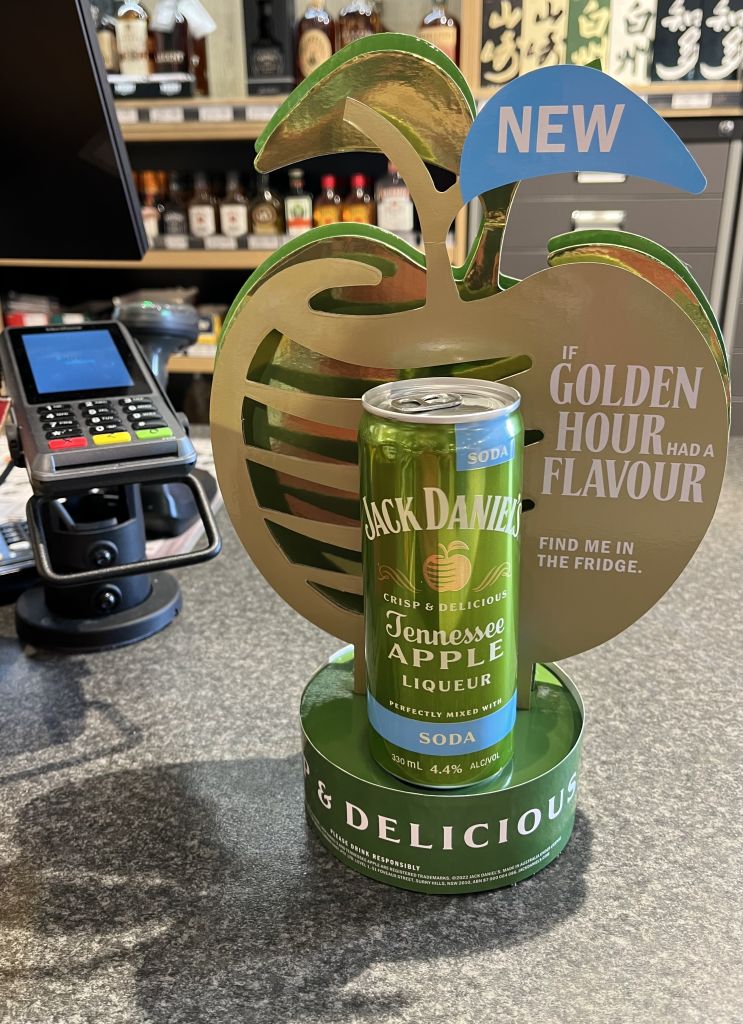 Challenges
Timings are always critical with new product launches.
With only 9 weeks from concept to the required delivery date, we leaned on the experienced id8 team both locally and in China to confidently deliver our solutions on time.
The hero element across all POS display elements is Jack Daniel's Apple and Soda can. The oversize can that was integrated into the POS displays needed to be an exact colour match to the actual slim-line can. To achieve this, we sent the only product that was on hand in Australia to our China team to press check and colour match. The approved green was printed directly onto silver paper.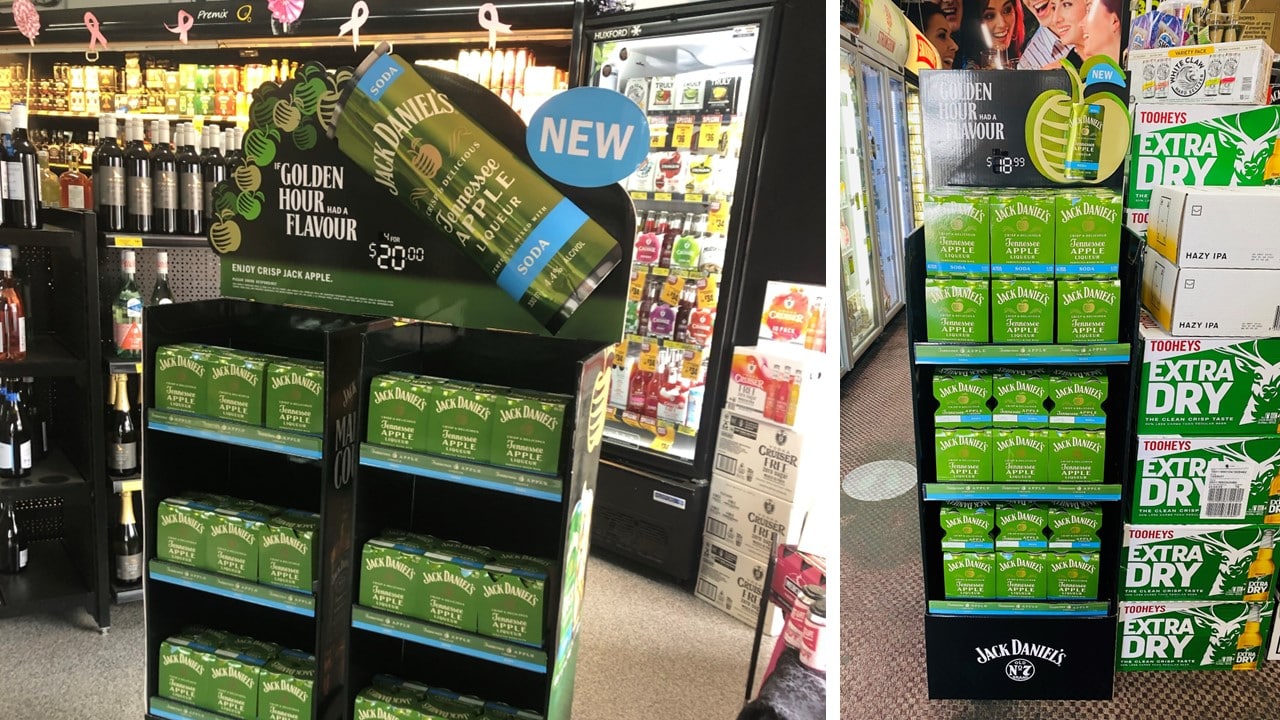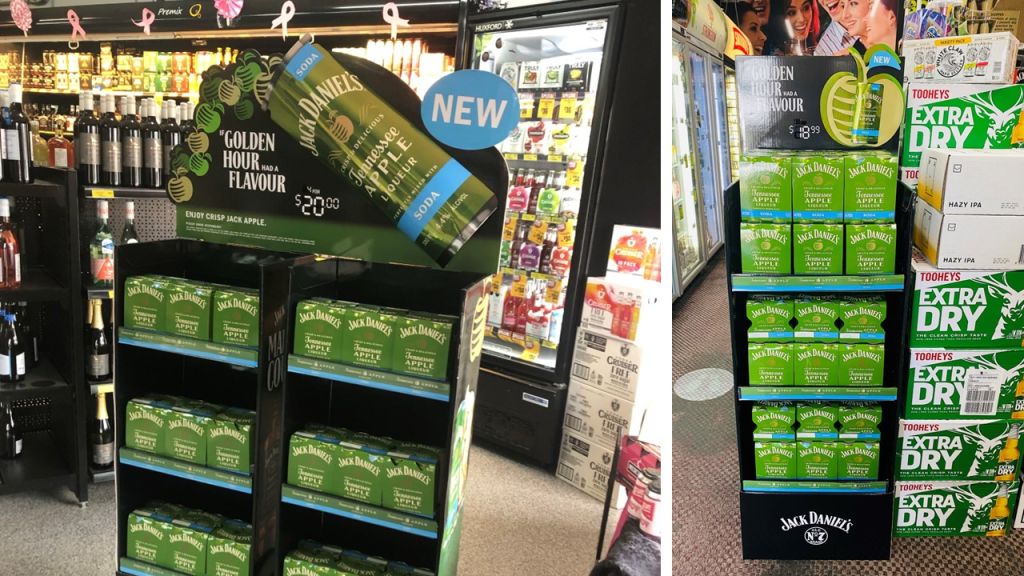 Big thanks to our amazing clients in the Jack Daniel's team at Brown-Forman for working with us to help you bring your exciting new product activation to life in-store!
Contact the team at id8 Studio for more information [email protected]