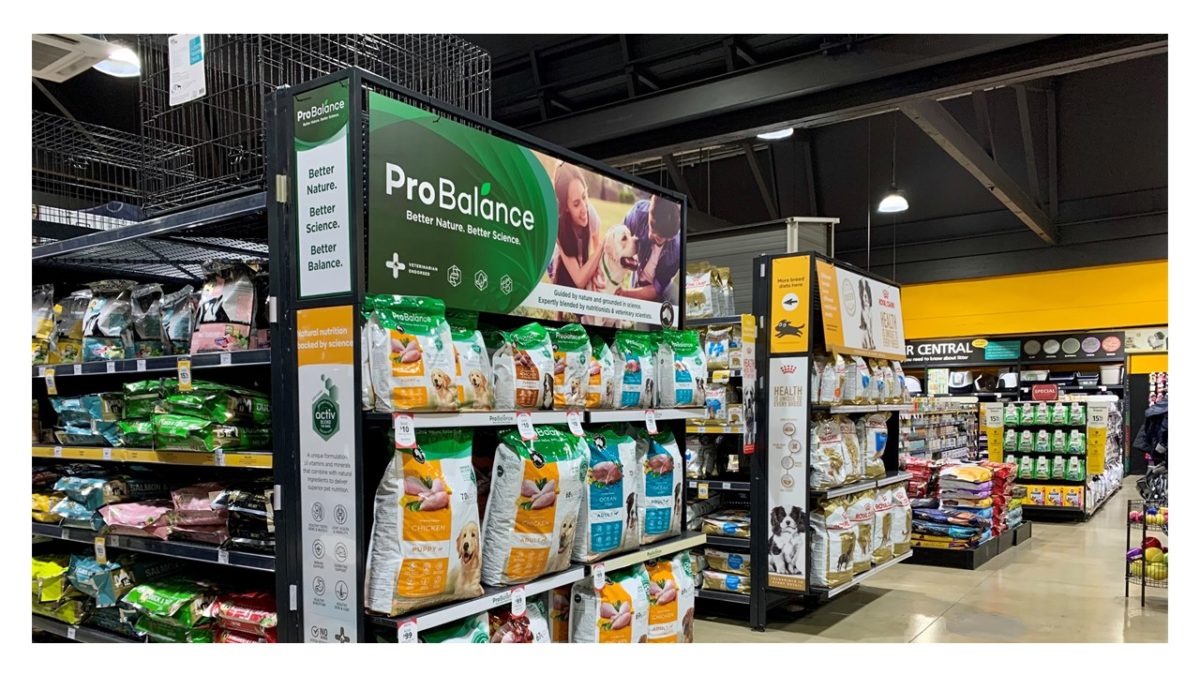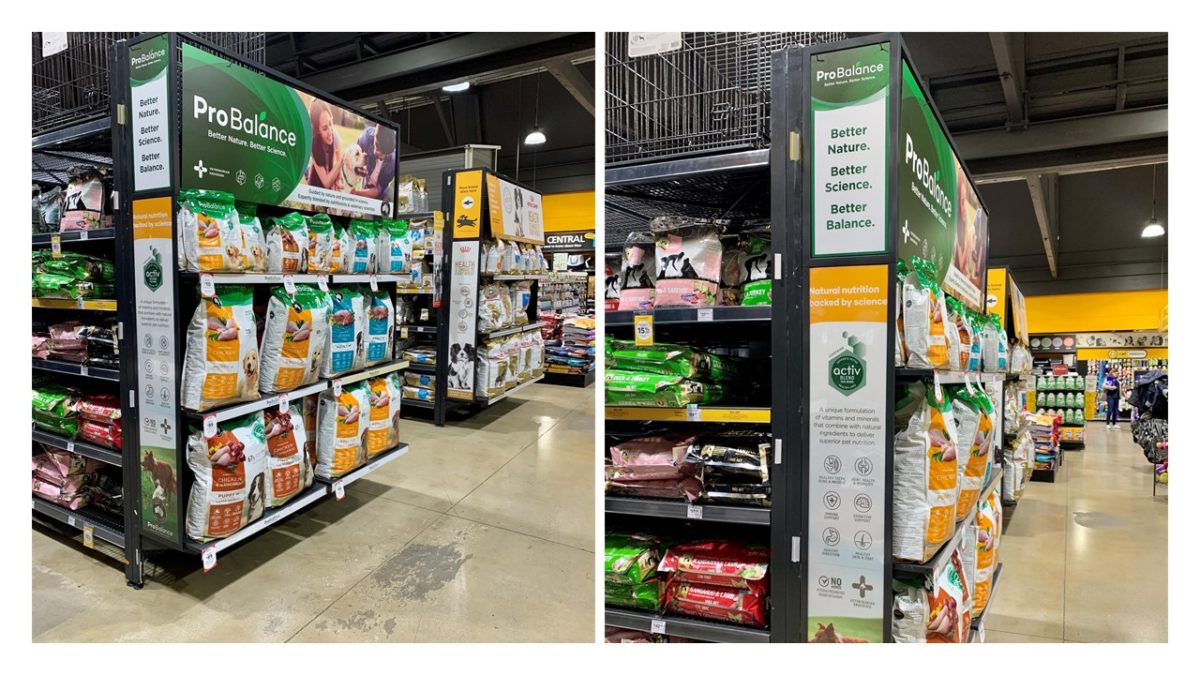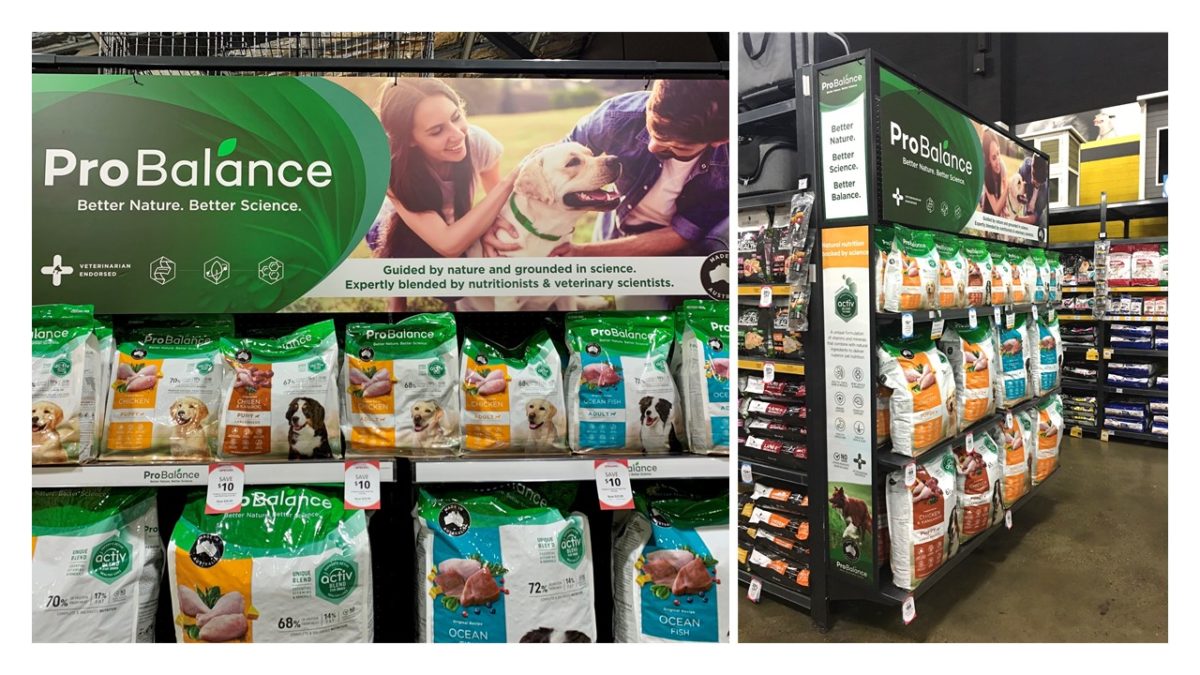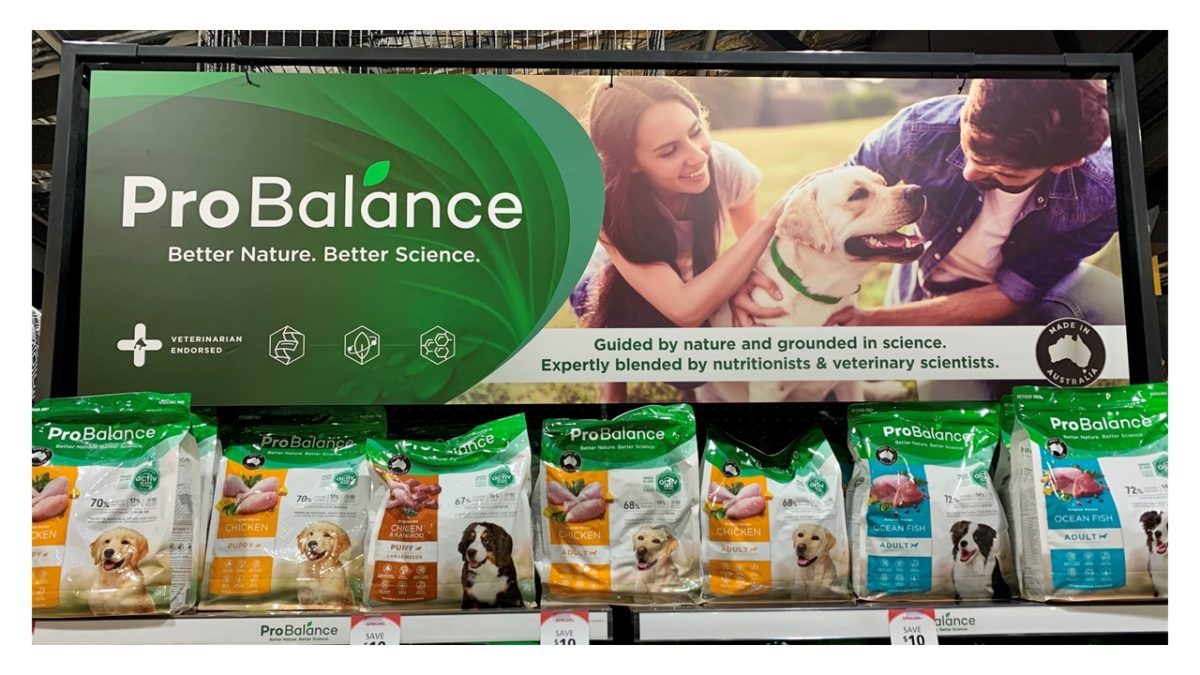 Petbarn is Australia's largest pet care company with specialty pet stores across Australia.
The key components in creating the best environment within the pet store market is to have passionate and helpful staff, favourite brands and easy to shop stores that make "shopping for your pet a delight".
Petbarn stores have a contemporary yet traditional feel. Open aisles and clear categories are well laid out with easy to navigate signage.
The Gondola end
Gondola (or aisle) ends are instrumental in driving both brand and category growth in specific departments.
They are especially helpful in creating destinations for brand offers for retailers, whilst delivering value for shoppers by being quick and easy to shop which in turn strengthens both brand and retailer loyalty.
The previous model of Gondola end solutions at Petbarn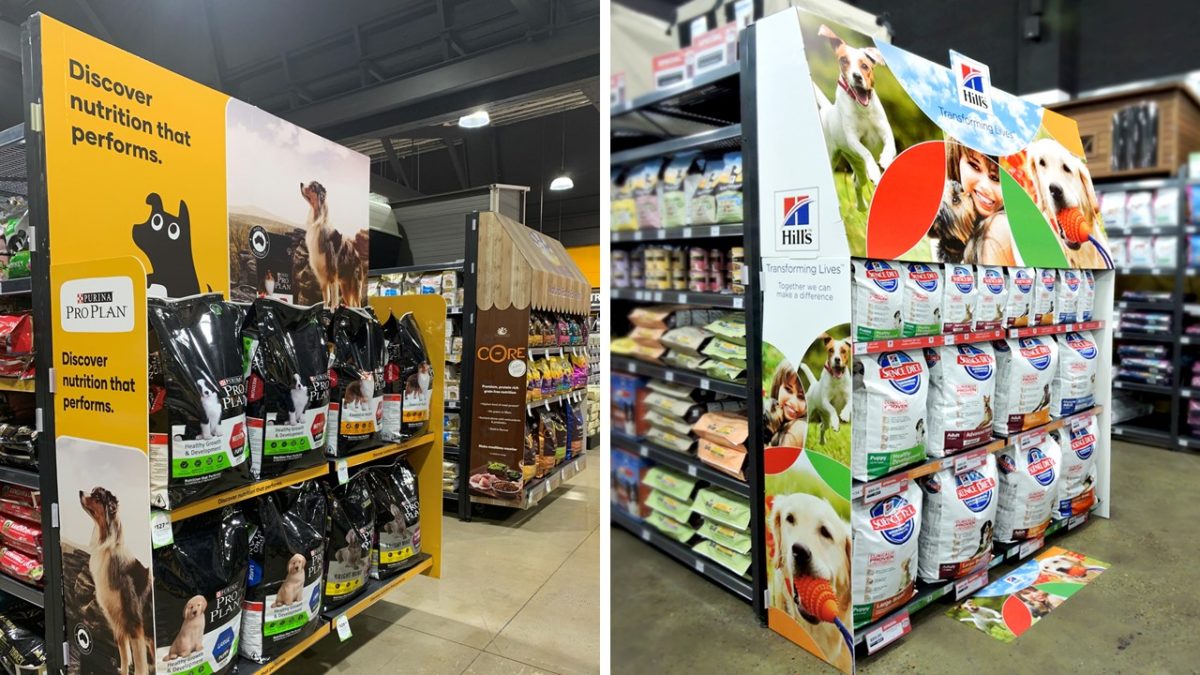 The gondola end space at Petbarn stores creates theatre and increases visibility to customers to show case expansive ranges of pet foods.
Our first iterations of the gondola end solutions were bright and impactful temporary displays.
The previous solution looked fantastic from a brand impact point of view if executed in store properly, but the cardboard temporary units were difficult to assemble. They were also easily damaged by trolleys.
Because each new promotion was essentially made from scratch, there was an ongoing problem with brand consistency. This resulted in inconsistent and cluttered displays; not really the hero piece that is required to deliver category growth.
Transformation of the Gondola: Petbarn Metro end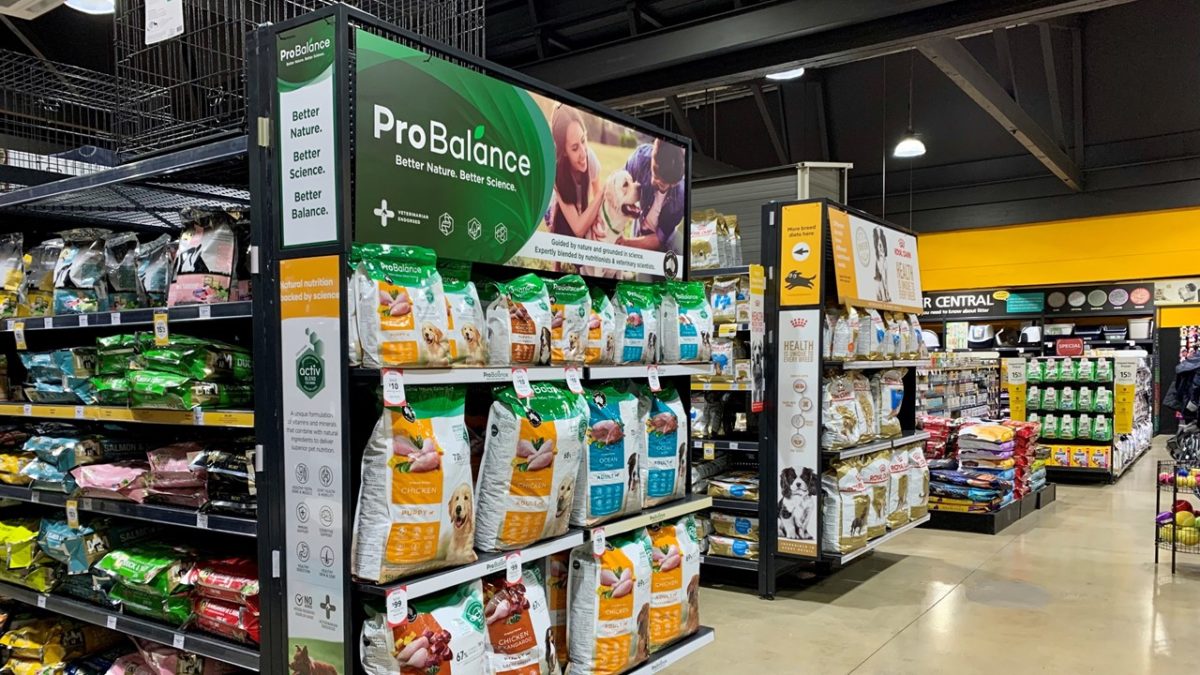 The perception can be that temporary displays are the cheaper alternative to something more permanent and premium, but to dress a gondola end using a temporary cardboard structure is in fact a very costly exercise as the whole display needs to be remade for each promotion.
Brief: Create a permanent solution which blended with the store fixtures to create a clean and consistent look across the store network. The graphics needed to be easily updated and simple for store staff to change over.
The new permanent solution needed to attach to existing Petbarn fixtures.
Challenge: The stores use 2 main sizes of gondola ends, as well as a range of custom sizes, so we needed to develop a permanent system to work for the different widths.
Solution: Our industrial designers engineered a totally bespoke telescopic frame that adapts to different sizes. The design is sleek in appearance and smart in function, giving Petbarn in-store flexibility whilst keeping costs down.
The black powder-coated steel telescopic design attaches to existing shelf fixtures. This robust solution has been created to be used for the next 3-5 years in Petbarn's busy store environment.
The new permanent display has been designed for ease of graphic updates making this solution perfect for redressing to suit frequent brand manufacturer promotions.
The header artwork hangs from three hooks and gondola end side graphics are easily interchanged.
Cost reduction: The new permanent solution has enabled us to create a simpler redress that is just as impressive from a visual impact perspective, with the added benefit of graphic update costs being dramatically reduced by 75%.
Production and assembly: We proactively prototyped new permanent options whilst the temporary displays were still being utilised in-store.
Various iterations of the new displays were designed and trialled in-store before arriving at the perfect new solution.
From sign-off of the new permanent Metro end, production time was 6 weeks, with 3 weeks shipping.
The new displays were delivered directly to store and assembled by staff within 10 minutes.
The design needed to be quick and easy to put together without additional tools, taking the pain out of assembly and at the same time enabling store staff to maximise their time with shoppers.
This was a key consideration as 90% of the success of a project is around activation in-store; if staff can't put together a display, and it can't be activated all the best planned marketing campaign efforts can be lost.
200 displays have been rolled out nationally in May 2020.
In conclusion
We are in a time where retail marketing needs to be more adaptable than ever before.
The key to providing innovative solutions to our clients is constantly relooking at the design and evolving it to find improvements and cost savings within the changing retail space.
The ability to create redressable solutions is critical to enable retailers to be nimble with in-store marketing activations so that they can facilitate sales growth for brands and products.
Designing retail solutions that are short-term, high-impact, cost effective and super easy to assemble, is fundamental to creating a truly game-changing sustainable solution.
Do you need help transforming your retail display solutions?