New Product Launch!
Introducing the all-new Wahl Waterproof Lithium-ion Stainless Steel Trimmer.
Wahl continues to provide the style and quality of the Superior Performance Lithium-ion Trimmer, but now with added benefits including being 100% waterproof!
Brand background
Wahl invented 'the clipper' in 1919. Their grooming products have been used by barbers and hairdressers all over the world for more than 100 years, yet their brand awareness amongst Australian consumers was low.
Partnership with swimmer Kyle Chalmers
Wahl recently aligned with swimmer Kyle Chalmers as a brand ambassador – the perfect partnership for their new Waterproof Lithium-ion Stainless Steel Trimmer product launch and ATL advertising.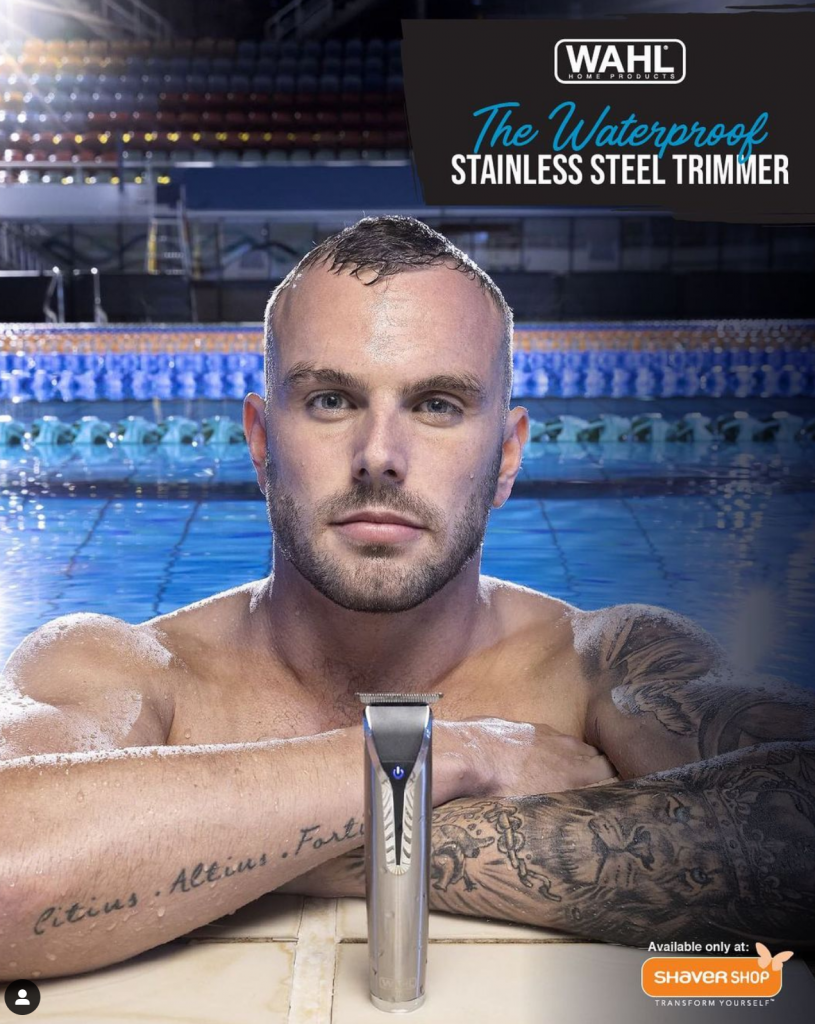 Our role
Wahl needed to make its mark with the Australian customer in mind. It was essential to increase the visibility of the brand and what better way than to launch their new Waterproof Lithium-ion Stainless Steel Trimmer.
Display creative
We needed to create a solution to give the new trimmer visibility instore and enable customers to touch and feel the new product. The solution had to be easy to assemble and have interchangeable graphics to drive education on the new improved trimmer with the wider range of different attachments. Most importantly we need to stand out from the crowd and gain an optimum off location position instore away from the shelves where other competitors products are showcased.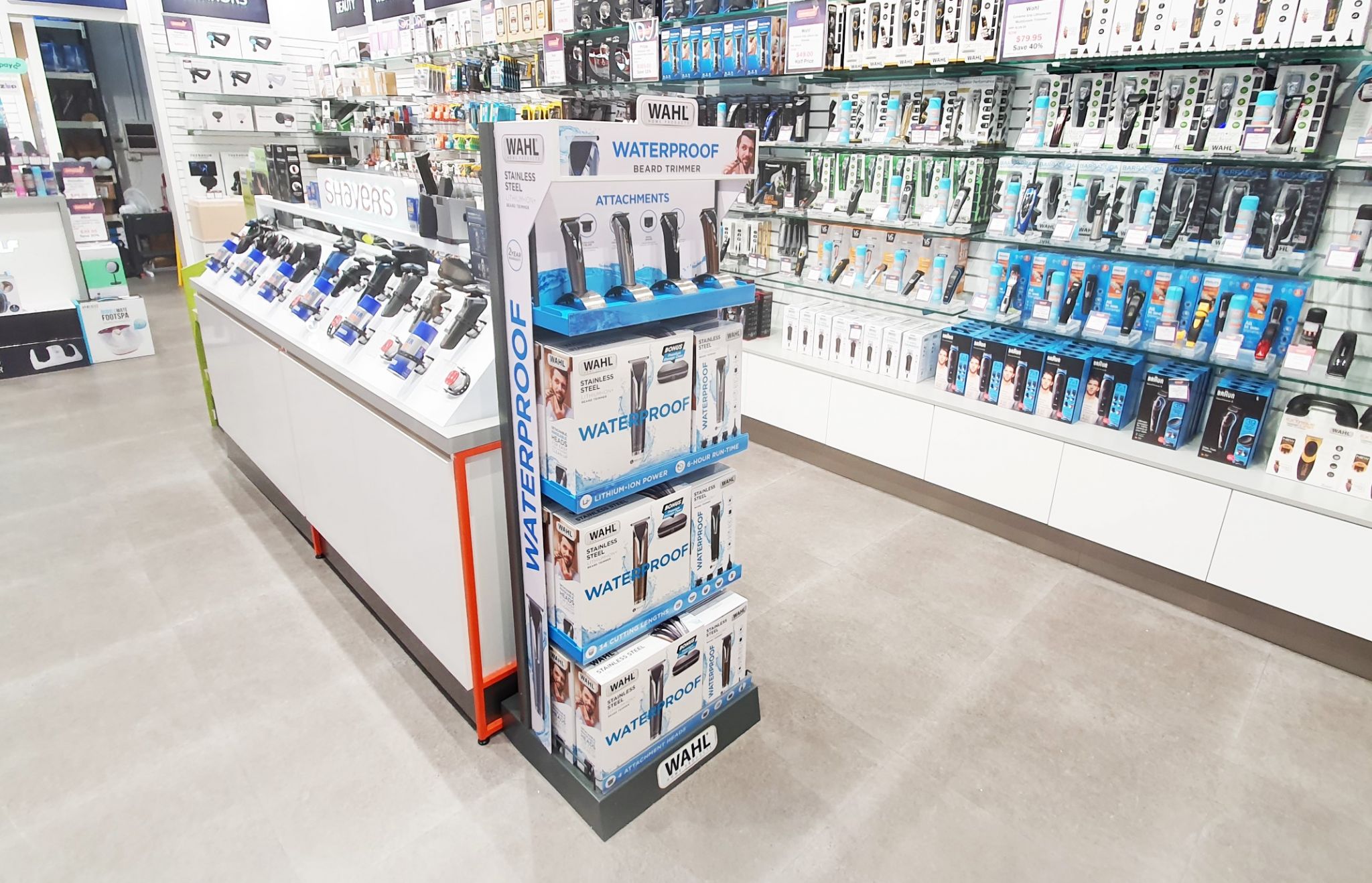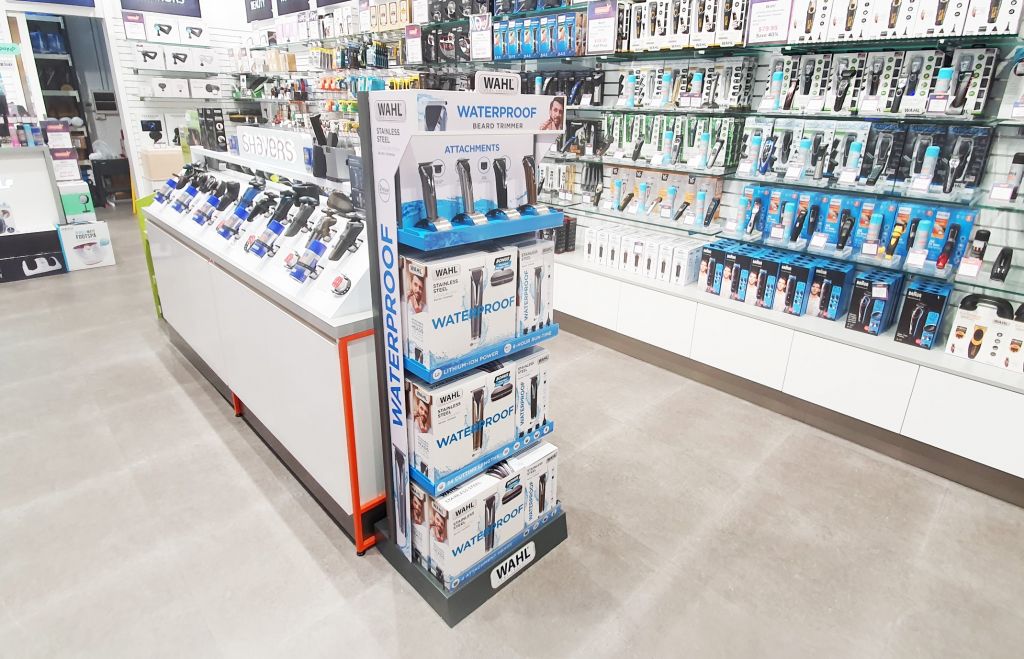 Materials, Manufacturing & Execution
Designed in metal with lockable wheels enabled the unit to be moved around the store when required. This mobile approach helped gain the best position instore front and centre! Metal construction made for a durable design and gave the store flexibility to range the product they required. The demo shelf showcased 4 colours of the waterproof trimmer and allowed for customers to pick up the trimmers and turn them on to get a feel for the product. The trimmers were secured on retractable cables to ensure the product was secure. Execution of the roll out was supported by the Wahl sales team with the units sent direct to store for speed to market.
Contact the team at id8 Studio to design an instore activation that creates strong visibility of the brand and puts a new product launch at front and centre of shoppers.